Minnesota weather: Severe storms sweep through state
MINNEAPOLIS (FOX 9) - Severe storms have left behind damage across Minnesota for the second night in a row.
2 died during Thursday's severe storms in western Minnesota
The National Weather Service reports at least one person is dead after severe storms swept through on Thursday afternoon.
Officials say a man was killed when a grain bin fell on top of an occupied car Thursday evening just before 7 p.m. According to the National Weather Service, the incident happened along 45th Street SE just south of 165 Avenue SE near Blomkest, Minnesota.
Another man, age 49, died during the storm. He was riding his motorcycle when he lost control and went into a ditch near 60th Street Southeast in Cashel Township, Swift County.
RELATED: Meteorologist from Mexico killed while storm chasing in southwestern Minnesota on Wednesday
Stevens County destruction
In Stevens County, straight-line winds have led to damage across the county. Photos sent to us by Prairie Wind Chasers show damage to silos, sheds, and other outbuildings.
On a farm in Alberta, a 70-foot tall grain silos were destroyed as strong winds pushed them off their concrete foundations. A farm outbuilding in Alberta was also destroyed – tossed about 100 feet from its location. Power poles were bent to the ground near Chokio. 
Photo from @PrairieWndChsrs. A silo was destroyed by strong winds in Stevens County in western Minnesota. (Nick & Amanda Elms)
Stevens County Sheriff Jason Dingman told FOX 9 there were no injuries reported as of the 9 p.m. hour, but widespread power outages were reported.
In Morris, the roofs were blown off the bowling alley and the John Deere dealership.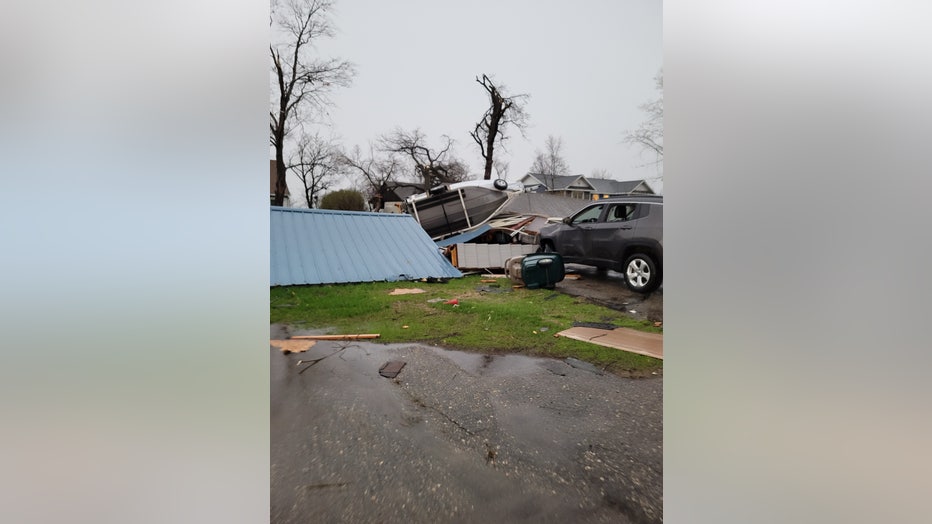 Winds flip boats out of water in Alexandria, topple semis
The strong winds also caused problems further to the north in Alexandria.
Photos from Gerry Estrem show damage to boats, sheds, and a garage along with trees along Darling Lake.
Douglas County officials say they have reports of sporadic damage throughout the county with a handful of homes damaged.
However, there are no reports of injury from the storm.
(Gerry Estrem / Supplied)
Straight-line winds cross Highway 10 in Becker
Videos shared to FOX 9 show the leading edge of straight-line winds from the storm approaching from the west on Highway 10. In Becker.
Storms push into Minnesota from South Dakota
Storms and reported tornadoes caused damage across western Minnesota as strong storms emerged out of South Dakota through Thursday evening.
Earlier Thursday evening, a wall of clouds and dust could be seen in an image captured over South Dakota by Rayce Monahan. Shawn Hinnant also captured video of similar scenes over Sioux Falls, South Dakota. 
MORE: Minnesota storm damage, flooding roundup from Wednesday night