Minnesota storm damage, flooding roundup from Wednesday night
(FOX 9) - Severe storms that pushed across Minnesota on Wednesday left behind damage, took down trees, knocked out power, and caused flooding across the metro.
As of Thursday morning, Xcel says they are still working to restore power to some 30,000 customers. 
The storms, which moved across the state, west to east, throughout the evening, prompted multiple tornado warnings over the course of the evening. In the western portions of the state, authorities reported downed trees, downed power lines, and damage to buildings and barns.
Closer to the metro, things weren't any better. FOX 9's Rose Schmidt was at a home in Edina where a tree had fallen onto it. There were other reports of trees onto homes and vehicles in Minneapolis and Brooklyn Park among other areas.
There were more than 100 reports of severe weather across Minnesota on Wednesday, including large hail and wind gusts topping out at 79 mph in Morristown, while the Twin Cities saw peak gusts ranging from 60-67 mph. 
Flash flooding was also a major issue in parts of the Twin Cities thanks to the 1 to 2 inches of rain that fell during the storm. Other areas picked up even more rain, with pockets of 3-4 inches in some cases. Buffalo got 3.87 inches of rain, Delano saw 3.40 inches and Willmar picked up 2.86 inches. 
Tree splits house in Coon Rapids
Neighbors say the two people living in a house in Coon Rapids and their five dogs were in the basement when a large tree fell on their home and split it in two on the 400 block of 105th Lane Northwest. 
"I'd rather be in a hurricane than straight-line winds," neighbor Sharron Sloan, who grew up in North Carolina, told FOX 9 while surveying the damage Thursday morning. 
Power out at Hopkins High School
Hopkins High School announced early Wednesday that there will be no in-person learning because last night's storm knocked out power to the building. Online learning will begin at 10:30 a.m. 
Trees take down power lines in Bloomington
In Bloomington, firefighters shared a photo of trees down across a roadway that had knocked down power lines.
"BFD crews responding to numerous incidents from earlier severe storms. PW crews have been called in to remove trees from roadways. Several areas of the city are without power," the tweet reads.
Flooded basement in St. Paul
What do you do when water starts pouring into your basement through a ground-level window? Cross your fingers and grab a plastic bin. Meghan Walsh shared this video from St. Paul.
Flooding on highways, at MOA parking garage
There were multiple reports of flooded roads along Interstate 494 in Bloomington near Penn Avenue and at Portland Avenue. At the Mall of America, there were also multiple reports of flooding, including a car submerged in water along Killebrew Drive.
Photos from a viewer also showed a flooded-out MOA Transit Center.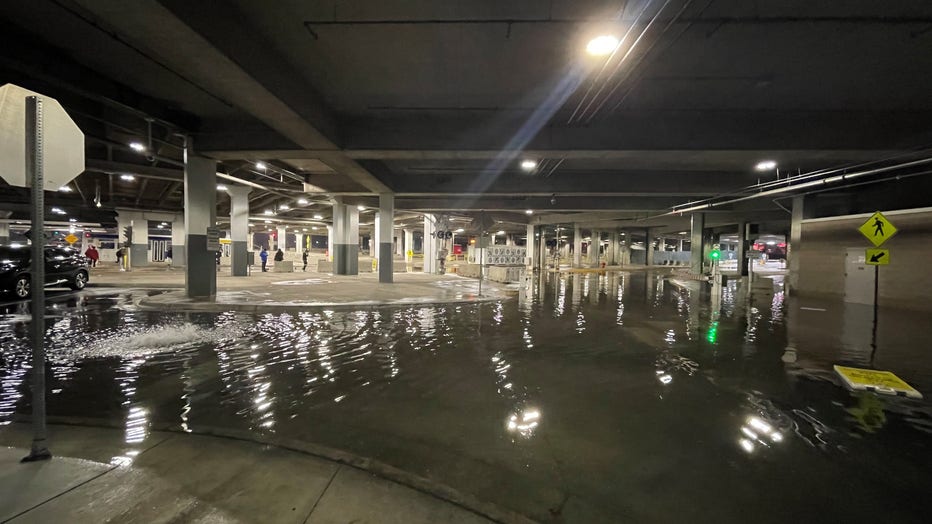 A viewer photo showing flooding at the Mall of America Transit Station.
Twins and Loons games suspended, Allianz Field flooded
The strong storms disrupted sports games as well. The Twins were forced to suspend their game versus the Astros. It will be resumed Thursday at 12:10 p.m.
The heavy rains also flooded out Allianz Field where the Minnesota United were playing Colorado. That game is likely to be finished Thursday afternoon.