Minnesota weather: High-impact snow storm will hit in 2 waves starting Tuesday
MINNEAPOLIS (FOX 9) - The Twin Cities metro is set to get another blast of winter weather this week, as an approaching storm brings the possibility of 14 to 18-plus inches of snow spread over multiple days.
Snow timeline: What to expect
Here's a timeline of what to expect with this three-day snow storm. (FOX 9)
The storm will be a high-impact winter event coming in two waves, with the second bringing the heaviest snow. The first wave is expected to arrive on Tuesday afternoon and continue until early Wednesday morning, bringing possibly 3 to 5 inches of snow.
After a brief lull on Wednesday morning into the afternoon, the second wave is expected to hit from late Wednesday afternoon into Thursday afternoon, with the potential of 12 inches or more of snow. During this second wave, there will also be strong northwest winds gusting up to 40 miles per hour, leading to potential blizzard-like conditions.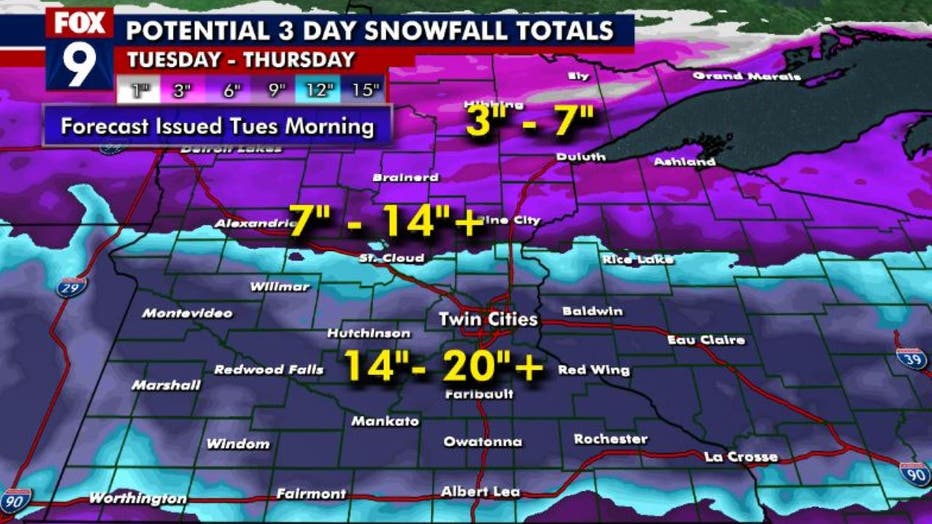 Here's a look at the potential snowfall totals with this three-day snow storm.  (FOX 9)
High-impact storm
While many people will be focused on the snow totals, it is important to note that this is a high-impact storm that could cause major disruptions and impacts that could linger for days. Additionally, this storm is likely to have a significant impact on street parking for the remainder of the season.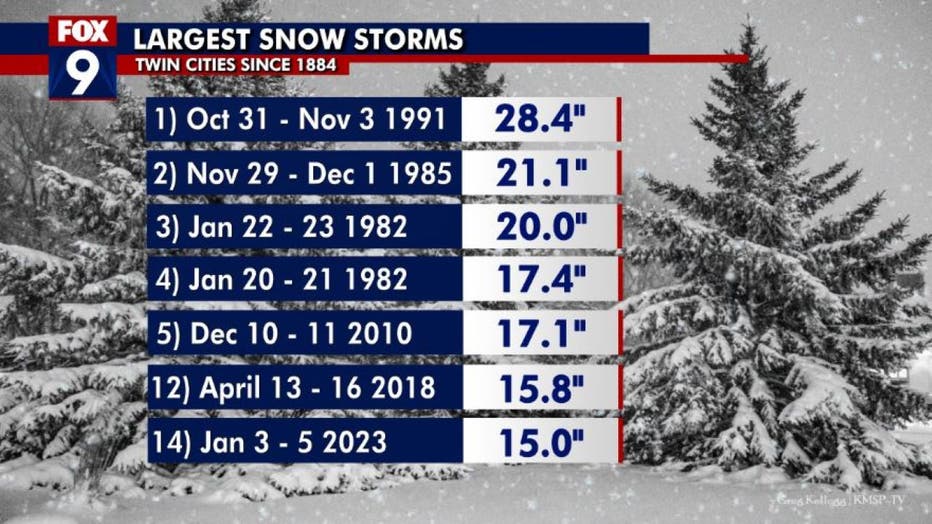 Here's a look at the largest snow storms in Minnesota history. (FOX 9)
It is important to keep in mind that these snow totals may change as the storm develops, with some pockets seeing more snow than others.