Free, covered parking in Minneapolis, St. Paul for snowstorm
MINNEAPOLIS (FOX 9) - With some significant snow in the forecast this week, Minneapolis and St. Paul plow crews are getting ready for a busy few days.
In Minneapolis, the city is asking people to move vehicles off side streets as possible. To aid with that, the city is opening up about 1,300 spaces in some parking lots for those who don't have a place to put their vehicle.
The lots that are open now include the Vineland Place Ramp at the Walker Art Center (727 Vineland Place), the Minneapolis Farmers Market lot under I-94 (225 East Lyndale Ave N), the Basilica lot under I-94 (13 North 17th St.)m, the Salvation Army Lot (601 North 4th Street) and the Lyn-Lake Lot (2940 Garfield Ave. S).

Parking in Uptown will also be made available for free beginning at 5 p.m. Tuesday, Feb 21 in the Seven Points Parking Ramp at 1375 W. 31st St., and the MoZaic Art Parking Ramp at 1340 Lagoon Ave. Vehicles can stay there until 7 p.m. Sunday, Feb.26.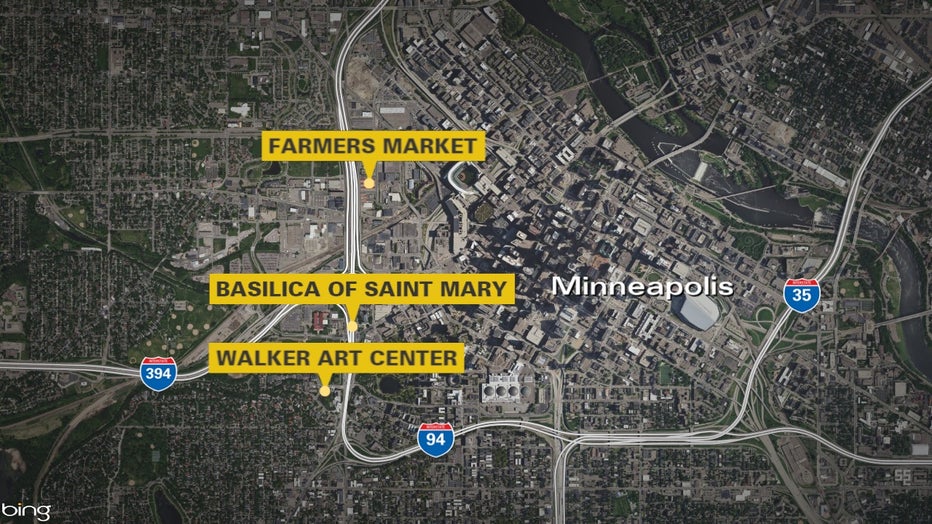 Officials are asking people who have other options not to use the lots, to save spots for others.
St. Paul is opening 8 ramps for free parking during this winter storm. Beginning Wednesday, Feb. 22 at 5 p.m., vehicles may enter and park for free until Saturday morning at these city-owned ramps:
Smith Ramp (145 Smith St)
Kellogg Underground Ramp (129 Kellogg Blvd)
Lawson Ramp (10 West 6th St)
Lowertown Ramp (316 Jackson St)
7A Ramp (13 West Exchange St)
Robert Street Ramp (95 East 7th St)
Block 19 Ramp (145 East 7th St)
World Trade Center Ramp (477 Cedar St)
Early Minneapolis snow emergency likely
As for snow emergencies, Minneapolis Public Works Director Margaret Anderson Kelliher says she anticipates calling a snow emergency Wednesday morning. But more than one snow emergency may be needed to clean up the streets.
"I am very likely to call that snow emergency on Wednesday morning, based on the level of snow predicted. So, on Wednesday night, that will put snow emergency parking restrictions in place."
Back-to-back snow emergency, Day 1 repeat possible
Kelliher says it's possible they call two back-to-back snow emergencies or repeat Day 1 of the snow emergency two days in a row.
Snow emergency parking rules will supersede the one-sided parking restrictions. Simply, once in effect, residents should obey standard snow emergency parking restrictions.
St. Paul: Plan ahead, move your cars
As for St. Paul, the city is also asking residents to plan ahead, while they move forward with plowing efforts. As normal, the city's focus will start with the main routes.
"Our first priority is making sure that the main streets are passable for emergency vehicles. When we are able to, we will get into the residential streets," St. Paul Public Works Director Sean Kershaw said.
But with 300 miles of arterial routes to focus on, and even utilizing their full staff, St. Paul officials say it will take some time for residential streets to get cleared with efforts scheduled to continue through Friday evening.
To aid with plowing, St. Paul officials are also asking residents who can to move their vehicles off city streets.
"It's most important that people have a plan, a plan to help out their neighbors, a plan, if they can, to move their car into another location [off the street]," Kershaw added. "We know that's not easy for everybody, but I would assume right now that everybody should have a plan from Wednesday evening through Friday evening for their car to be somewhere off a residential street if they can."
St. Paul snow emergency plan
As for a snow emergency declaration, the city didn't have any clear-cut answers.
"The last time it snowed, we had all of our trucks constantly plowing the main streets just to keep them clear," said Kershaw. "We couldn't endanger the safety by moving those trucks into residential areas. We had to keep every truck we had focused on clearing the main streets… So that is always our priority. If we are able to, we're going to look at options for getting into residential streets. We don't have an answer on that yet."
Kershaw stresses that they will have all available crews battling the snowstorm. But it will take time to get everything cleaned up. "This is absolutely an all-hands-on-deck situation. I mean, part of the reality is we only have so many plows and drivers, and so we want to make sure that we're aligning that we are efficiently putting those out to make sure that the main streets are clear and passable."