NCAA Hockey Championship: Minnesota-Quinnipiac time, TV, streaming, watch parties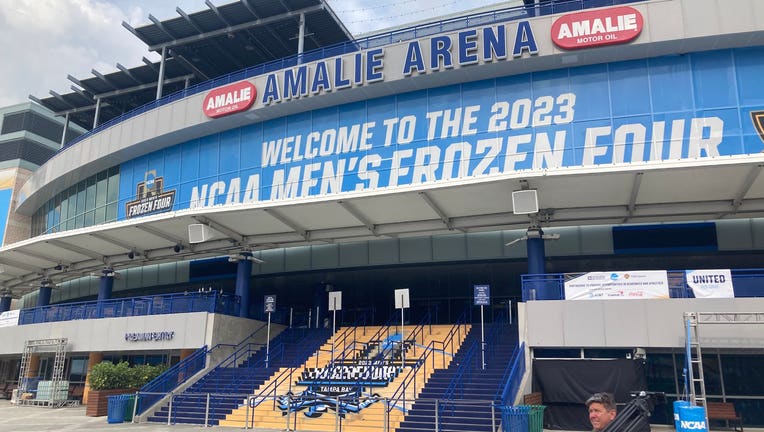 article
MINNEAPOLIS (FOX 9) - The University of Minnesota men's hockey team will play for its sixth national championship Saturday night and first since 2003 after beating Boston University 6-2 at the NCAA Frozen 4 Thursday in Tampa. 
The Gophers face the Quinnipiac Bobcats in the final. Quinnipiac beat Michigan 5-2 in the other semifinal, so it won't be an all-Big Ten national championship game, or a rematch of the Big Ten title game. 
The Gophers are playing in their first national title game since 2014, and first under head coach Bob Motzko.
"I'm just darn happy we're going to be playing. That's the first job when you get here is to punch your ticket the first night to get to that game," Motzko said. "We've got one left."
Quinnipiac played in the national championship in 2013 and 2016, finishing as the runner-up in both years.
NCAA hockey men's final: TV and streaming
TV coverage starts at 7 p.m. CT / 8 p.m. ET on ESPN2. The game is also streaming on ESPN+.
Gopher hockey hype video
Gopher Sports dropped a fresh hype video for the title game. Watch it on Twitter or at GopherSports.com.
Quinnipiac posted a pre-championship hype video too.
Where to watch
Several University of Minnesota area establishments are going big for the championship game.
"We are expecting it to be absolutely crazy," said Carly Leighton, a manager at Sally's Saloon in Stadium Village."I mean, everybody is so excited. Campus is fired up. The staff is fired up. We are just excited for a great night."
Sally's is offering a special Saturday Happy Hour before the game and installing GoPro cameras to catch fan reactions while the Gophers are on the ice.
Just down the street, Stub & Herb's is offering drink specials, too.
"This place absolutely erupts every time the Gophers score," said Luke Overton, who works at Stub & Herb's. "You can't hear anything for a couple minutes."
Minneapolis police on campus
Minneapolis police told us they've increased staffing for Saturday, just in case.
And they say officers will be visible near the campus, just like they were after Thursday night's game.
Where is Quinnipiac?
We knew you'd ask! Quinnipiac University is a private university in Hamden, Connecticut with an enrollment of about 10,000 students.