Minneapolis PD puts out alert for Dinkytown ahead of Gophers at Frozen 4
MINNEAPOLIS (FOX 9) - The University of Minnesota men's hockey team is in Tampa for the NCAA Frozen 4, and Minneapolis police want to make sure students and residents around campus are safe as the Gophers compete for a national championship.
The Gophers face Boston University in a national semifinal Thursday night. If the Gophers win, they would advance to play either Michigan or Quinnipiac for a national championship on Saturday. In that event, it's likely that plenty of students will be out and about in Dinkytown, Stadium Village and other areas around campus.
Campus bars and restaurants will likely be busy with fans and students watching the games, especially with temperatures expected to feel more like spring this weekend. In the past, the Minneapolis campus has had issues with disturbances and rioting after Gopher hockey successes. It last happened after Minnesota beat North Dakota in 2014 to advance to the national title game.
The Gophers last won a national championship in 2003, and fans flooded to the streets of Dinkytown after to celebrate, some more safely than others.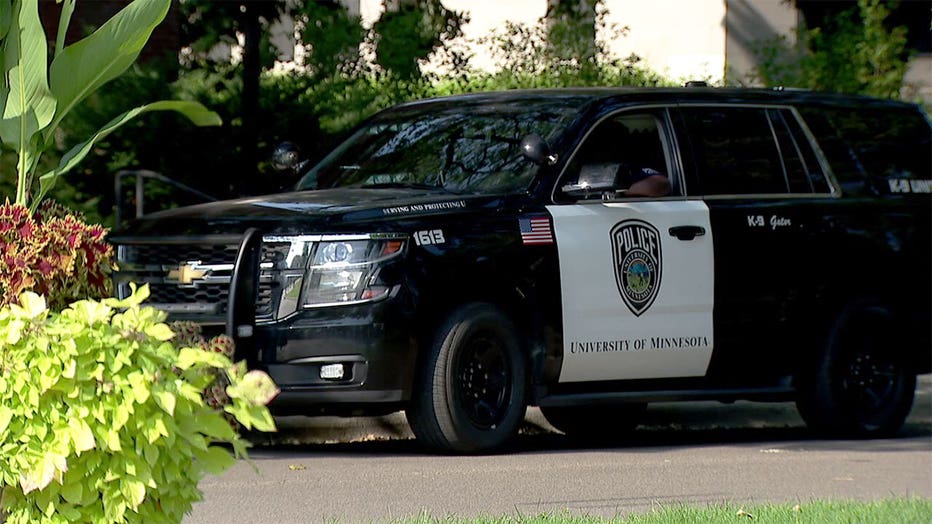 A University of Minnesota Police Department squad on patrol on campus. (FOX 9)
Minneapolis police advise area businesses, residents and property owners to be vigilant with a potentially eventful weekend ahead.
Minneapolis police wants business owners to have a security plan in place for dealing with disruptive individuals. That includes having extra staff, keeping all glass indoors, and securing garbage cans and outside furniture.
For those hosting parties at their house, they're advising at least one person to stay sober, give neighbors advance notice, and be a point person to communicate with law enforcement.
Call 911 to report any suspicious activity or disturbances.
Minneapolis police wants Gopher hockey fans to enjoy the games, but act responsibly.