Gophers hockey beats Boston University 6-2, advances to national title game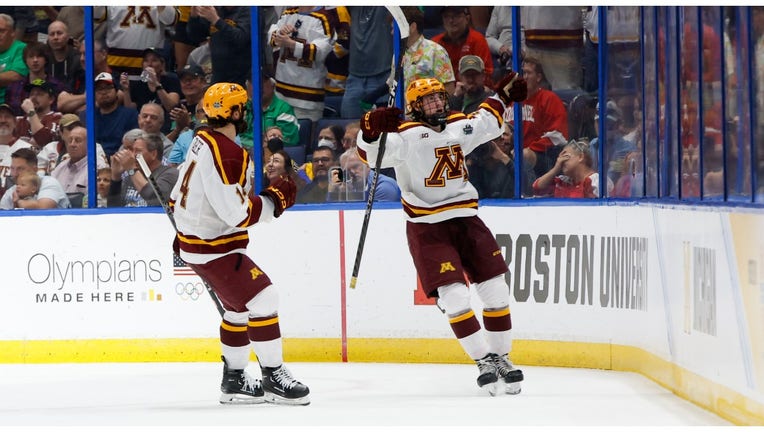 article
MINNEAPOLIS (FOX 9) - The University of Minnesota men's hockey team will play for its sixth national championship Saturday night and first since 2003 after beating Boston University 6-2 at the NCAA Frozen 4 Thursday in Tampa.
The Gophers advanced with some third period heroics from Luke Mittelstadt in a game that was tied 2-2 after 40 minutes. The freshman defenseman out of Eden Prairie scored a pair of goals 1 minute, 49 seconds apart to break the tie and give the Gophers some breathing room in a tight hockey game. His first came on a power play at the 1:40 mark, just after the Terriers had killed the first part of a 5-on-3 advantage. Mittelstadt beat the Boston goalie high on the glove side and inside the post for a 3-2 lead for what turned out to be the game-winner on assists from Mike Koster and Bryce Brodzinski.
"I think Mike (Koster) gave me that first one, and Hugy set up a great screen. I don't think the goalie saw it for a second and all I had to do was put it in that right side. Fortunate to put it in. We just keep firing the puck and good things will happen," Mittelstadt said.
Less than two minutes later, Mittelstadt got his second of the night on a wrist shot through a Connor Kurth screen to give Minnesota a 4-2 lead. He entered the night with five goals on the season. What a time to get Nos. 6 and 7.
"Right from when you start practice to start a year, some of the good ones, you just go 'There's a good one.' He had it right from the start. One of the reasons we were calling USA Hockey and said 'You've got to watch this guy.' He's a candidate for the World Junior Team. He's been great from the first day he stepped on the ice with us," Gophers coach Bob Motzko said. "Luke nailed both shots, they were big time shots."
The Gophers responded from an early 1-0 deficit with first period goals from Koster and Rhett Pitlick, both on the power play. Aaron Huglen assisted on Pitlick's goal with a reverse between the legs pass worthy of top plays on ESPN's SportsCenter.
Logan Cooley had a third goal with 44 seconds left in the first period waved off for goaltender interference. The Gophers had another goal waved off near the end of the second period as it was covered just before it could fully trickle over the goal line. Minnesota also hit three posts in the game, and missed four open nets.
Cooley eventually got his redemption, scoring a pair of empty-net goals late in the third period to seal a Gophers' win.
Special teams were special for Minnesota in the win. Three of their four goals came on the man advantage. The Gophers have now out-scored opponents 19-5 in three NCAA Tournament wins.
Minnesota will face Quinnipiac Saturday night for the national championship. The Bobcats beat Michigan 5-2 in the other semifinal, so it won't be an all-Big Ten national championship game, or a rematch of the Big Ten title game. The Gophers are playing in their first national title game since 2014, and first under Motzko.
"I'm just darn happy we're going to be playing. That's the first job when you get here is to punch your ticket the first night to get to that game," Motzko said. "We'ev got one left."