Gophers start 6-0 after run game dominates Nebraska in 34-7 victory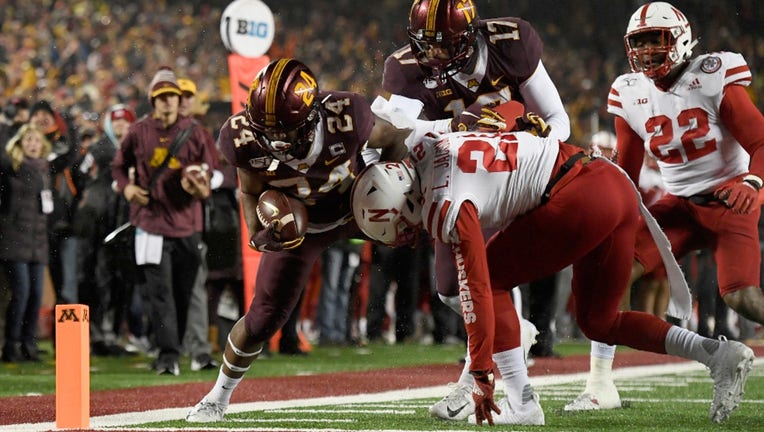 MINNEAPOLIS - Five days before the University of Minnesota football team hosted Nebraska at TCF Bank Stadium, it was a near 90-degree fall October day in the Twin Cities.
It was in the mid-70s on Tuesday and Wednesday, but Gophers coach PJ Fleck knew the weather forecast. He knew at kickoff Saturday night it would struggle to get to 40 degrees. He knew wind would be a factor, and a snow, sleet and rain mix was in the picture. They did their best to emulate game day conditions all week in practice, and they were more than prepared Saturday night.
The Gophers ran for 322 yards and got three touchdowns from sophomore Mohamed Ibrahim in a 34-7 win over the Cornhuskers. Minnesota's defense got four sacks and had five tackles for a loss. They're getting better every week, and this week was their latest complete effort.
Saturday also happened to be the Gophers' coldest October kickoff game in a decade.
"Circumstance does not dictate our behavior, but you better prepare for certain circumstances, or it will dictate your behavior. I thought we did that," Fleck said after the win.
The Gophers are off to their first 6-0 start since the 2003 season under Glen Mason. They've won eight straight games dating back to last season, which hasn't happened at Minnesota in roughly 70 years. It was the 1948-49 season.
Just six games into the 2019 season, the Gophers already know their season will finish with a bowl game. A Citrus Bowl representative was at Saturday's shellacking of the Cornhuskers.
"Especially being from Minnesota, it's really special. We've just got to focus on the now and the present," said senior linebacker Kamal Martin, who led the Gophers with 15 tackles in the win. "Just take one game at a time and this game is over and we've got to focus on next week."
For the first time ever, Ibrahim, Rodney Smith and Shannon Brooks were all healthy and available options for the Gophers running the ball. With cold, windy and snowy conditions, all three of them were needed. Last week, Smith and Brooks combined for 322 yards in Minnesota's win over Illinois.
This week, Smith and Brooks combined for 238 yards and a touchdown. Ibrahim had 84 yards and three touchdowns. The Gophers averaged 6.6 yards per carry and had 450 total yards.
"Eighteen carries for Rodney, 13 carries for Shannon, 15 carries for Mohamed. Perfect," Fleck said. "Some will have 18, 13, 15, they could care less. They put all their yards into a bucket. They love each other."
Fleck singled out his five offensive linemen who played every offensive snap Saturday night with Daniel Faalele out due to an undisclosed injury. Conner Olson, Sam Schlueter, Blaise Andries, Curtis Dunlap Jr. and John Michael Schmitz over-powered a Nebraska front that averages more than 320 pounds across the board.
"We knew that we were going to have to run the ball in this weather and establish the running game, and the offensive line did an excellent job. They blocked their tails off tonight, those are the guys that really handled it," Smith said.
The Gophers scored on their opening possession with the help of a Smith cutback that made multiple defenders miss, getting the ball to the Nebraska 29-yard line. Three plays later, Tanner Morgan hit Chris Autman-Bell on a tunnel screen for a 15-yard touchdown pass. It was Autman-Bell's only catch of the night, and it was Morgan's only touchdown pass.
Smith and Brooks combined for 50 yards on the ground on a Gophers' touchdown drive in the second quarter, capped by Ibrahim's score from 15 yards out to give Minnesota a 14-0 lead. The Gophers ran for 220 yards in the first half.
Morgan opened the game up on the first play of the third quarter, hitting Tyler Johnson on a 45-yard pass into Nebraska territory. Four plays later, Ibrahim scored his second touchdown of the night to give Minnesota a 21-0 lead.
The Gophers got the ball back after forcing a punt, and Smith took a direct snap for a 1-yard touchdown, with Seth Green lined up at wildcat quarterback. Minnesota had a 28-0 lead, and the rout was on.
Johnson yet again put himself in the history books before the end of the third quarter. He caught a 45-yard pass down the sideline from Morgan, putting him over 100 yards for the game. It was Johnson's 11th career 100-yard receiving game, tying the school record with Eric Decker and Tutu Atwell. Ibrahim finished that drive with a 1-yard touchdown run, his third of the night.
If not for a meaningless Nebraska touchdown in the fourth quarter, the Gophers defense would've pitched a shutout for the second straight week. Back-up quarterback Noah Vedral got the start in place of the injured Adrian Martinez, and he was under pressure most of the night.
He was sacked four times as the Gophers got five tackles for a loss. Vedral finished with 135 yards passing. Nebraska finished with just 299 total yards.
"We know that if we practice well, we get results," said safety Antoine Winfield Jr., who finished with 10 tackles and one for a loss.
The Gophers are 6-0, they're bowl eligible and they're off to their best start in 16 years. But how good are they? What about facing Iowa and Wisconsin? Fleck's next biggest concern is Rutgers next Saturday. The Scarlet Knights lost 35-0 to Indiana on Saturday, and are being out-scored 165-7 in Big Ten play.
"We're as good as we are right now, that's all I know. I know right now, today, we're a 34-7 win over Nebraska good. That's all I know," Fleck said.