Program pairs teen mentors with tech-curious senior citizens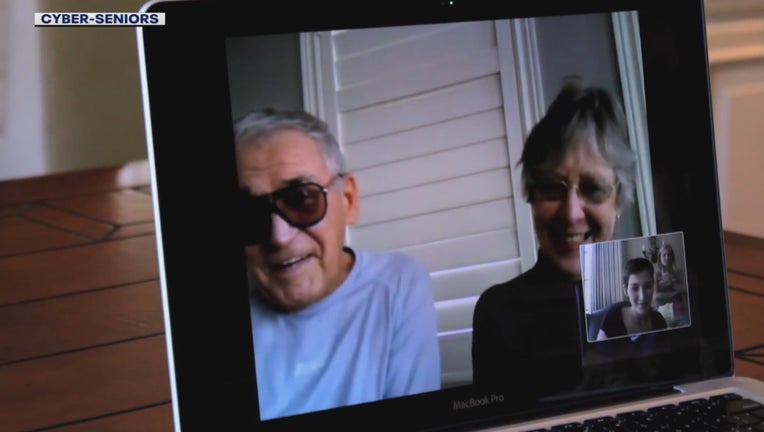 article
(FOX 9) - Technology has been a lifeline for many during the pandemic, but it's been a challenge for seniors not used to remote work, streaming entertainment and online ordering.
Like a lot of seniors, Lanie Paymer didn't know what Zoom was before the pandemic started, and she certainly never thought she would be using the tool to practice piano with her teacher from her smartphone like she does now.
"I have attended many of the classes on Zoom," Paymer said. "We'll get an email saying these are the classes so we sign up for what we want."
Those emails and classes come from a nonprofit called Cyber Seniors. Paymer signed up for some 1-on-1 sessions a few years ago to learn the basics, like how to read and send emails. Pre-pandemic, she'd met in person with a Cyber Seniors teen mentor who is trained in empathy and patience to slowly teach seniors what they want to know.
"One of the teens from Central High School, he said he never knew until he was working with seniors that he lived for his 'Ah ha' moment that he provided for people, like 'Oh, I just click the plus button to add something to my online calendar. I had no idea.' And he loved that they were so appreciative," said Beth Winnick.
When the pandemic hit, Cyber Seniors didn't have a virtual system in place, so they quickly created one they say is user friendly and secure. In the last 10 months, the organization exceeded expectations with more than 25,000 interactions with seniors all over the country.
Winnick says Cyber Seniors can be literally lifesaving during the pandemic.
"We keep hearing from seniors who thought that they could not go to medical appointments because they were so afraid they could be exposed to the virus, but by walking through with some of the tech mentors, they now have doctor's appointments," she said.
Mentors get questions about selling quilts on Etsy, shopping on Amazon and how to use the Lunds and Byerly's app, among other things.
"I've have some people that have basically never touched any technology in their life; they're terrified of it," said Reese Michaelson, a 16-year-old mentor with the program. "I've had questions as simple as, 'How do I turn on my computer?' and then I've had some really complex ones."
His favorite part, he says, is learning from the seniors.
"Every senior that I've helped has a different story," he said. "I can learn so much from their experiences while they're learning from me about all this new stuff like, what they did through their entire life."
Cyber Seniors is free to anyone who considers themselves a senior citizen. Right now, they offer services in English, French and Spanish and they are also looking for teen mentors from the Somali and Hmong communities as well. They believe everyone, regardless of tech experience, age, or circumstance, deserve the same opportunity.
To sign up for Cyber Seniors, visit their website here.