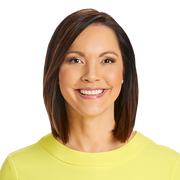 Amy Hockert is an anchor and special projects reporter at FOX 9.
Amy was born and raised in Minnesota and is grateful to live and work in her home state. She started her career in college where she worked for the NBC affiliate in Fargo-Moorhead. She worked in Minot, North Dakota, and Raleigh, North Carolina before moving back to Minnesota to work at KARE-11 and later served as VP of News for the digital news organization, Bring Me The News.
After taking an 8-year hiatus from TV news to start a family, Amy came back on air when she joined FOX9 in 2015.
Amy's favorite pastime is traveling with her husband and their two kids, 9-year old Christian and 11-year old Elise. The family also has two very spoiled dogs, Bennett and Henry.
The latest from Amy Hockert