Man attacked by 4 dogs in Brooklyn Center dies from injuries: Police
BROOKLYN CENTER, Minn. (FOX 9) - A man attacked by four dogs in the backyard of a Brooklyn Center house died from his injuries Thursday night. 
The Brooklyn Center Police Department said at approximately 12:45 p.m., officers responded to a reported dog attack near the 5700 block of Halifax Avenue North. Upon arrival, they found four dogs attacking someone in the backyard. 
Officers deployed a less lethal round which struck at least one of the dogs and caused all the dogs to return to the home, allowing officers to secure the garage door and provide medical assistance to the man.
Police said the man sustained extensive bites all over his body, and most of his clothing was ripped off during the attack. The person was intubated on-site and rushed to a hospital, where he immediately underwent surgery.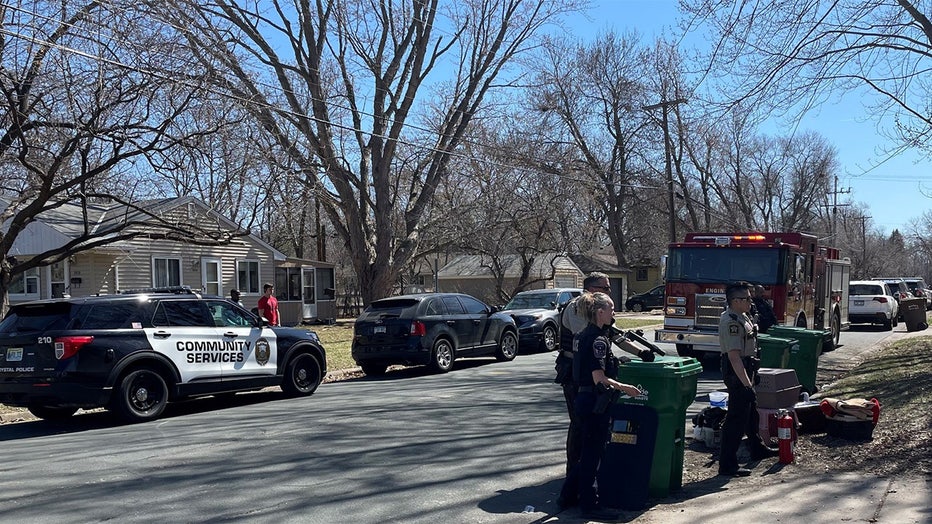 Law enforcement responded to a report of four dogs attacking someone Thursday afternoon. (Credit Brooklyn Center Police Department) (Supplied)
The man died from his injuries, police said Friday.
Police said the man was a family member taking care of the dogs. 
The four American Pit Bull Terriers are in quarantine as they undergo a dangerous dog evaluation process. The incident is still under investigation.