'Heroic' Mora flea market owner saves boy after truck hits business
MORA, Minn. (FOX 9) - A little boy's family is calling a Mora flea market owner a hero for rescuing him as a truck crashed into her business on Friday.
She suffered a broken back, but she's out of the hospital now albeit with a difficult road to recovery.
The Kanabec County sheriff says a driver suffered a medical event, causing his truck to crash off Highway 65.
Tire tracks show it drove down into a ditch at an angle, then straightened up and headed for the open garage door, right at Tammi Johnsen and a 2-year-old boy.
"He should've killed all three of us," Angela Folstrom said through tears Monday, looking at the Brunswick Flea Market for the first time since narrowly escaping death.
She was just a few feet away when a pickup truck barreled towards the store, but in the nick of time, instinct kicked in for owner Tammi Johnsen.
"I was like 'Oh my God,'" Johnsen said. "He was coming right at us, and all I wanted to do was get that baby out of the way."
The truck smashed everything in its path and even after it stopped, the wheels just kept turning, grinding rubber tread marks into the floor.
Black smoke clouded Angela's vision as she desperately looked for her grandson and her friend.
"Then things start to get clear and it was almost like I was trying to swim through it," said Folstrom, who helps out at the market. "And then I'm screaming 'Micah, Tammi, Micah, Micah.'"
Angela found Tammi and Micah alive, but the crash killed Tammi's dog, Tucker.
She didn't know that yet when she smiled on her way to board an ambulance.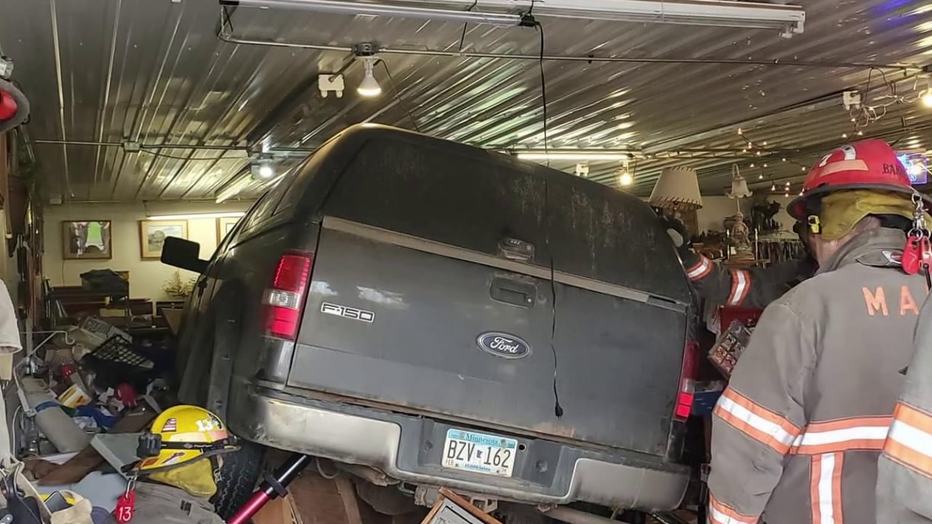 An aftermath photo taken of a truck that went through the Mora Flea Market. 
"I was just happy I could move," Johnsen said. "I wasn't paralyzed."
Tammi spent four days in the hospital with a broken vertebra and bruising.
Micah spent several hours there, too, but he got to visit Tammi before she got out, so he could thank her.
"She's my hero," Folstrom said. "She's my family's hero. She saved my grandson's life. And we will always be totally grateful."
Among the debris at the scene, FOX 9 found the sippy cup Micah was holding just before the crash about 10 feet from the garage door, which shows how far Tammi had to go to get him to safety.
Now, Tammi is wracking up medicals bills, and she won't be able to come back to work for at least three weeks.
Friends have since created a GoFundMe page to help