Chetek Police Officer Emily Breidenbach remembered for love of community, devotion to animals
CHETEK, Wis. (FOX 9) - The grief in western Wisconsin remains overwhelming where two police officers were killed during a traffic stop last weekend.
Law enforcement and the Barron County community is coming together Wednesday evening for a special candlelight vigil to honor fallen officers Hunter Scheel, of Cameron and Chetek's Emily Breidenbach. The officers have been honored as heroes in their hometowns, where small-town relationships run deep. Joint funeral services for the pair are scheduled for Saturday.
"Emily always chose kindness above everything else," said Maureen Mlejnek, owner of Little Red Barn Dog Rescue in nearby Rice Lake about her dear friend and supporter, Officer Emily Breidenbach. "We would just like to remind people that kindness does matter. You only get one shot. You only get one chance."
Officer Emily as she was known, shared a unique relationship with Mlejnek and her rescue, bonded by their love of animals.
"She was a special person," Mlejnek told FOX 9's Paul Blume. "Huge, huge heart."
Mlejnek said, Breidenbach often made a big impression wherever she went in uniform with her warm personality and big smile. Social media photographs and videos capture her dancing with kids in Chetek, sharing an ice cream cone, and reading to kids in school.
Chetek Mayor Jeff Martin recalled Officer Breidenbach just dropping in, out of the blue to check on his autistic son and his 6,000-piece Lego build.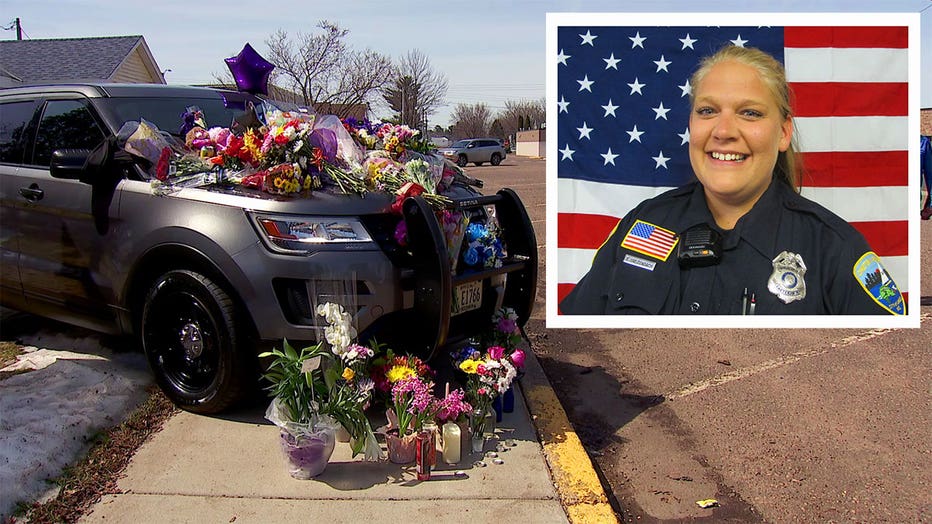 Chetek Police Officer Emily Breidenbach, 32, was killed in a shooting last weekend. (FOX 9)
"You know, she was a darn good officer, a great human being," Mayor Martin said during an interview outside the Chetek Police station where a department squad SUV has grown into a memorial tribute for Officer Breidenbach covered in flowers.
The 32-year-old Breidenbach had a soft spot for animals and served as a handler for the Chetek PD's therapy dog, Grizz.
"She loved Grizz. She knew that dogs are a quick way of coping for a lot of people," said Mlejnek, explaining Grizz went everywhere with Officer Breidenbach-- to crime scenes where the trauma might be overwhelming, to senior centers and the schools. Authorities have reported, Grizz was right there in her squad during the deadly traffic stop shootout Saturday afternoon. The K9 was not injured.
"They were with each other all the time," concluded Mlejnek, who is still trying to wrap her head around the sudden and shocking loss of Officer Breidenbach.
At Christmastime, Breidenbach spearheaded police station donation drives for Mlejnek's rescue. If there was an animal in trouble, the officer would make sure it was cared for, whether it was a box of kittens on the side of the road, a pet whose owner died, or a lost dog, Breidenbach made time.
In fact, just a couple of hours before she was killed on Saturday, Breidenbach delivered to the Little Red Barn Dog one last four-legged friend that had been pulled out of an unhealthy situation, and she helped pack up some supplies for the animals. Mlehnek snapped a photo of a beaming Briedenbach, and will never forget their final conversation.
"She was happy. And we were talking about the dog and talking about the year so far and how it's been crazy, and how people haven't been kind," recalled an emotional Mlehnek. "Emily lived her life with love and kindness. She was selfless. And it's not easy waking up every day and seeing the worst in people and still choosing to wake up and do that job. And I think a lot of the problems that we're having right now could be fixed with a little bit more kindness."
"What makes a good officer is not just enforcing the law, but winning hearts and minds. And Emily excelled at that," said Mayor Martin, speaking on behalf of his shattered community where Officer Emily was seen by many as the heart and soul of Chetek with a population of just over 2,000 year-round residents.