This winter now 3rd snowiest on record for the Twin Cities
(FOX 9) - It's official, the 2022-2023 winter season is now the third snowiest on record for the Twin Cities.
Rain, thunder, hail, and a wintry mix on Friday transitioned into heavy snow with a blizzard warning in effect for the Twin Cities, which is relatively uncommon for the metro, as well as much of central and southern Minnesota. 
The storm dropped some impressive snow totals which pushed this winter into the top three snowiest on record. For the 2022- 2023 winter season the Twin Cities now has 89.7 inches of recorded snow. The two winter seasons with more snow were 1981-1982 with 95 inches, and 1983-1984 with 98.6 inches of snow. 
With the latest round of snow, the Minneapolis-St. Paul airport recorded 8.5 inches while areas across the metro received anywhere from 7 to 10.5 inches of new snow.
List of snow totals:
Eden Prairie: 6.9 inches
St. Paul: 7 inches
Plymouth: 7.8 inches
Maplewood: 8 inches
Montrose: 8.4 inches
West St. Paul: 8.5 inches
Burnsville: 8.9 inches
Fridley: 9.2 inches
Brooklyn Park: 9.5 inches
Flacon Heights: 9.6 inches
Mahtomedi: 9.8 inches
Corcoran: 10 inches
Oakdale: 10.5 inches
Hudson 11.6 inches
Unfortunately, the snowfall might not be over yet for the season. A storm system moving in later in the week could bring chances of snow on Tuesday and Wednesday.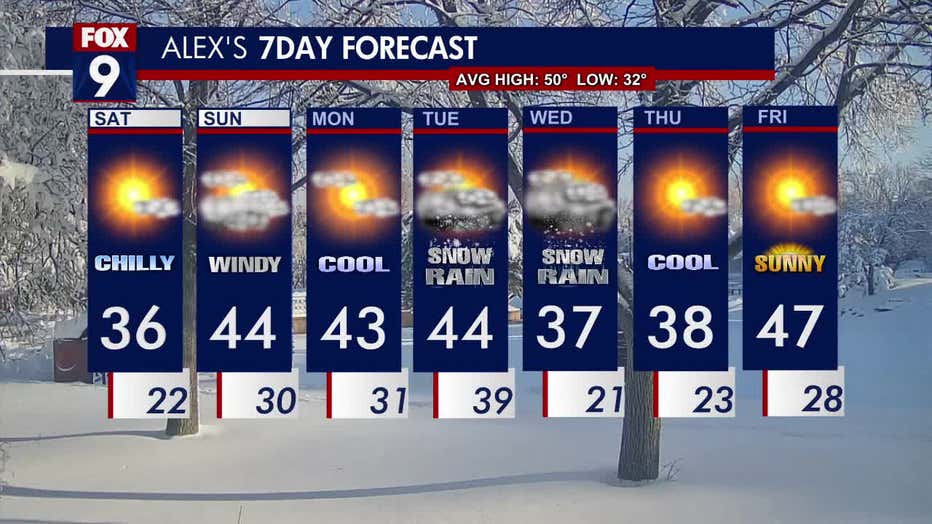 Take a look at your seven-day forecast