Minnesota weather: Power outages, messy roads after winter storm
MINNEAPOLIS (FOX 9) - Roads are covered in snow Saturday morning after a blizzard-warned storm moved through the state, making travel conditions a little rough. Meanwhile, the wind-driven storm has caused power outages across the Twin Cities.
Several inches of snow fell overnight. According to MnDOT, roads are partially or completely covered in snow across much of central and southern Minnesota as of 7 a.m. Saturday.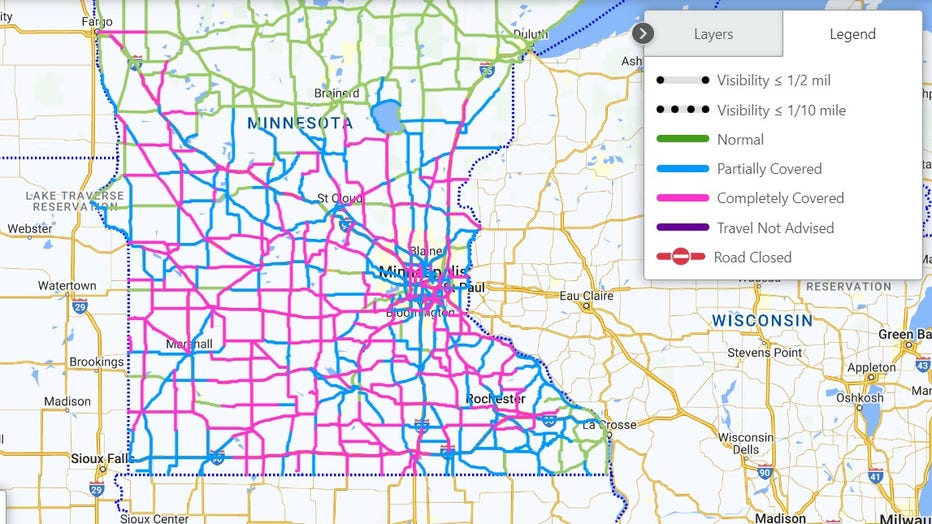 Road conditions as of 7 a.m. on Saturday, April 1. 
FOX 9's Leah Beno called it her "single worst drive to work of the season," noting it was "white knuckles" the entire drive to the Eden Prairie news studio. 
Beno recommends staying at home Saturday morning to let the plow drivers have time to do their work.  
The Minnesota State Patrol reported between 4:30 p.m. Friday to 11:30 a.m. Saturday there were 346 crashes, 629 spinouts, and 18 jackknifed semis across the state. Thankfully, only 41 of the crashes involved injuries and none of them were reported to be serious or fatal. 
Power outages across Twin Cities
Power outages have been reported across the Twin Cities metro as strong winds and heavy snow downed trees and power lines.
Xcel Energy's outage map shows more than 60,000 customers without power in the Twin Cities as of 7 a.m.
Conditions to improve quickly
Conditions are expected to improve quickly Saturday morning now that the storm is moving out. 
Saturday will be sunny and cool, with a high of 36 degrees. Sunday will be warmer and pleasant, with a high of 48 degrees. 
Most of the snow that fell Friday night will melt by Sunday evening, thanks to the warmer temperatures and sunshine.
The average high this time of year is 49 degrees in the Twin Cities metro, while the low is 31 degrees.