Timberwolves: Will KAT, Edwards return Wednesday night against Atlanta?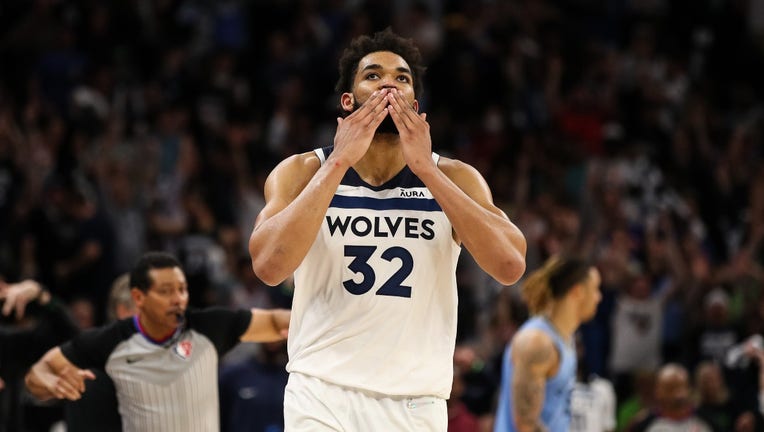 article
MINNEAPOLIS (FOX 9) - The Minnesota Timberwolves host the Atlanta Hawks Wednesday night at Target Center, and they could get their two best players back.
According to Shams Charania with The Athletic, the team is optimistic that forward Karl-Anthony Towns could play against the Hawks. Towns has been out since suffering a Grade 3 calf strain Nov. 28 at the Washington Wizards. The original diagnosis, that he himself has since refuted, was that he would be out four to six weeks. It's now been nearly four months.
Towns has missed 52 straight games, and in the 21 he played, he was averaging 20.8 points, 8.2 rebounds and 5.3 assists per game. The team announced last week Towns was progressing in his rehabilitation program and his return was expected "in the coming weeks."
RELATED: Timberwolves' Karl-Anthony Towns to return 'in the coming weeks'
Ahead of Wednesday's game, the Timberwolves upgraded Towns from "out" to "questionable," and forward Luka Garza was sent to Iowa on his two-way contract.
The team is also hopefully that Anthony Edwards could return Wednesday. Edwards suffered a sprained ankle in last Friday's game against the Chicago Bulls. In Monday night's win over the New York Knicks at Madison Square Garden, Edwards was on the bench and didn't have a boot on the injured ankle. He was even joking with the team's equipment manager to get a jersey so he could play.
Timberwolves coach Chris Finch isn't quite ready to say they'll both be ready Wednesday night. In an interview with WCCO Radio's Chad Hartman, Finch was asked if he expects them both to play against the Hawks.
"I do not. They're both in the evaluation periods and they're definitely on separate timelines. Whether those timelines end up coming together at the same point, I'm not sure. They're very different. I know that Anthony is feeling better and better every day, which is a good sign. And we know KAT is close. He's going through his workout progressions as normal," Finch said. "These things are evaluated almost twice daily. How is it feeling? What's it looking like? Do we need more time? What's the return to play look like? How does that fit with what we're trying to accomplish? That is, of course, an optimism we're all hoping for, and we're pretty confident at some point before the end of the season we're going to see them out there. But I can't tell you that it's tomorrow."
Edwards had been the Timberwolves' best player with Towns out, and Rudy Gobert in and out of the lineup. Edwards had made 71 straight starts and is averaging 24.7 points, 5.9 rebounds and 4.4 assists per game while shooting 46 percent from the field.
The Timberwolves have nine regular season games left, and are currently in the No. 8 spot in the Western Conference at 36-37.