Timberwolves: Karl-Anthony Towns to return 'in the coming weeks'
MINNEAPOLIS (FOX 9) - The Minnesota Timberwolves host the Boston Celtics Wednesday night at Target Center, and the team provided an update earlier in the day on injured star Karl-Anthony Towns.
Well, sort of. Timberwolves officials say Towns "is continuing to progress in his rehabilitation program" and has been participating in basketball activities. They say he is expected to return "In the coming weeks," and further updates to his playing status will be provided when available.
Towns has been out since suffering a right calf strain on Nov. 28, 2022, in a game at the Washington Wizards. He was running back down the court and immediately went to the ground, grabbing his right leg. He was helped by teammates to the bench, and eventually to the locker room.
He was diagnosed with a Grade 3 calf strain, and originally ruled out four to six weeks. That was never an accurate estimation, as it's now been more than three months.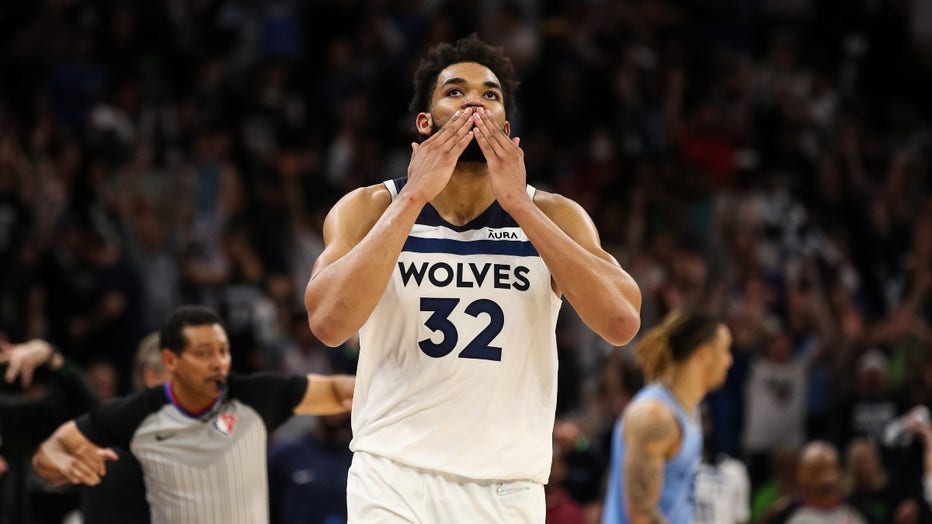 Karl-Anthony Towns #32 of the Minnesota Timberwolves celebrates making a three-point basket against the Memphis Grizzlies in the fourth quarter of the game during Game Four of the Western Conference First Round at Target Center on April 23, 2022 in M ((Photo by David Berding/Getty Images))
Towns has missed 48 straight games, and in the 21 he has played, he's averaging 20.8 points, 8.2 rebounds and 5.3 assists per game. The Timberwolves are 35-34, and seventh in the Western Conference with 13 regular season games to play. The Timberwolves have nine games left in March, and four in April before the NBA Playoffs.
If the regular season came to an end today, the Timberwolves would be playing the Oklahoma City Thunder for the No. 7 seed in the West.