Gophers to host UConn, Paige Bueckers in November 2023 non-conference game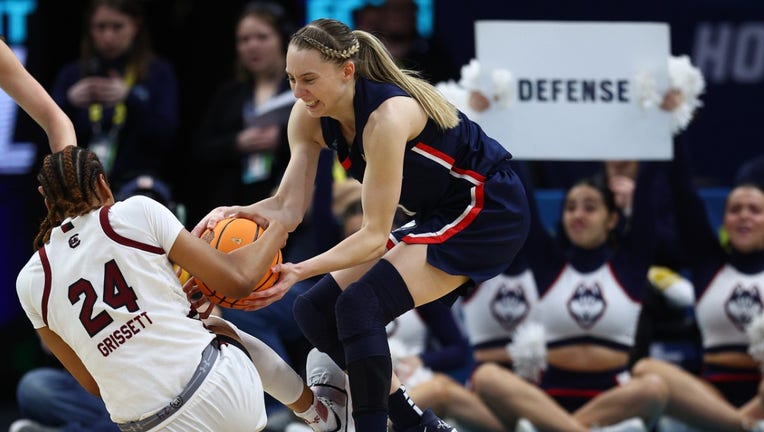 article
MINNEAPOLIS (FOX 9) - The University of Minnesota women's basketball team will host powerhouse University of Connecticut in a non-conference clash at Williams Arena in 2023. 
In a news release on Tuesday, the Gophers announced they'll host the Huskies on Nov. 19, 2023, marking the first time Minnesota has hosted UConn in program history. The game will mark the return of former Hopkins star Paige Bueckers to Williams Arena to face Lindsay Whalen and the Gophers. Bueckers was back in Minnesota this past March as she led the Huskies to the NCAA Women's Final 4, a run that came up short to Stanford in the championship game at Target Center.
After practice on Tuesday, Gophers' coach Lindsay Whalen said the match-up has been in the works ever since Bueckers signed with UConn out of high school.
"Well it turns out that they have somebody on their team that's pretty good at basketball and she's Minnesotan. Knowing coach (Geno) Auriemma for a long time, it's something that they try to do with all their players who have come through, to be able to bring them home for a game. They've always done that, they've always gotten some of the kids from outstate home," Whalen said. "We want to make sure that players who have worked extremely hard at their games and have represented wherever they're from well, that they get a chance to play in front of their family and friends. We knew at some point it was going to happen, so it'll be a big night, fun day, the whole thing. We're excited."
Current Gophers' freshman Mara Braun, a former Wayzata star, played against Bueckers for two years in high school. That includes a section championship game between the Trojans and Royals where Bueckers had 30 points, and Braun had 27 in front of more than 4,000 people at Hopkins High School.
Bueckers will also reunite with current Gophers' freshman and former teammate Amaya Battle.
"Super excited. I mean it's always fun to play a player like that, especially with her coming back from her injuries and on her home court will be super exciting. I think Amaya is really excited to play against Paige and be on the other side," Braun said. "She's a really good player and it seems like everybody in the world knows about her. It'll just be cool to get her back here, people are already texting me about it."
Bueckers, a junior, will miss the entire 2022-23 season after having surgery in August on a knee injury. She tore the ACL in her left knee during a pick-up game on Aug. 1. Bueckers also missed about half of last season after suffering a leg injury in the closing minutes of a win over Notre Dame. She'll receive a medical redshirt for the 2022-23 season, and will likely have two years of eligibility remaining. She could also leave school and declare for the WNBA Draft, and the Minnesota Lynx just happen to have the No. 2 overall pick.
In 17 games last season, Bueckers led the Huskies in scoring at 14.6 points per game, and added four rebounds and more than three assists per game. When Bueckers is eligible to turn professional, she'll likely be the No. 1 pick in the WNBA Draft.  
Minnesota and UConn have played each other three times, with the last meeting on November 20, 2021, in the Bahamas for the Battle 4 Atlantis. The Gophers also played the Huskies in the 2004 Final Four in New Orleans. UConn is 3-0 against the Gophers. 
Minnesota is 24-13 against current teams in the Big East.