Gophers hold off Purdue 34-31 in controversial finish at TCF Bank Stadium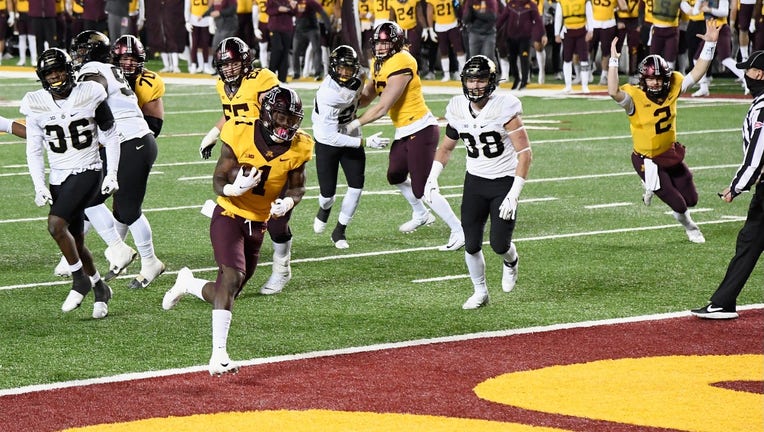 MINNEAPOLIS - P.J. Fleck's culture within the University of Minnesota football program demands pushing forward despite any adversity, without excuses and getting better every day.
Never more has it been put to the test than in the Gophers' 34-31 win over Purdue Friday night at TCF Bank Stadium. Minnesota was down to 61 scholarship players and had 22 players out due to either injury or COVID-19 issues. Offensive line coach Brian Callahan and two staff members weren't at the game due to positive COVID-19 tests earlier this week.
The Gophers highlighted their "HERE" campaign with "End Racism" labels on the back of their jerseys Friday, and in a game featuring plenty of highs and lows, Josh Aune's interception after a controversial offensive pass interference call on Purdue sealed Minnesota's first win of 2020 in its home stadium.
Fleck said after the win that "it was close" for the game to be canceled due to COVID-19 concerns.
"It challenges you. It does everything it can to test your patience, tests your commitment to the process, it tests your nerves, it tests your anxiety. It tests everything that you are as a coach and a man, because it is minute by minute," Fleck said. "That's a really special team in there. This win isn't going to go down as one of the greatest wins in Gopher history, but I told them I'll never forget this day, I'll never forget this game because of what it meant, what it represented, how they won it with all the adversity. That's Row the Boat guys, that's culture."
Fleck and his players preach to not let circumstances dictate behavior. A depleted defense gave up 492 yards, including Jack Plummer throwing for 367 yards and three touchdowns. His only real mistake of the game, a pass over the middle that sailed and was intercepted by Aune, sealed the win for Minnesota.
"Minnesota kid picks it off at the end. Still remember recruiting Josh Aune," Fleck said. "When you look at the end of that game, we had every chance to fold. They just never quit, and that's what I want to see out of this team in 2020."
"This program is all about response. We don't let the circumstance dictate our behavior. We hear about guys getting COVID, it's next man up, ready to go. It didn't really hurt our spirits at all," Aune said.
The talk after the game was mostly about Payne Durham's offensive pass interference penalty. With 52 seconds to play in regulation, Durham appeared to catch the go-ahead touchdown for Purdue. Phillip Howard was in coverage, and Durham appeared to shove Howard to create separation.
Durham got the flag, the touchdown was wiped away and Aune made the game-sealing interception on the next play. Purdue coach Jeff Brohm spent most of that final minute screaming at the officials about the penalty.
"Refs made a call and we had to respond. I was covering the guy and the refs made a call. We just had to respond after that," Howard said.
"When I saw the replay, it probably could've went either way. There was a lot of contact, you look at it and it's a penalty. It's a bang-bang play and those things get called. It happened to swing towards our favor," Fleck said.
The Gophers built a 21-10 lead at the half on rushing touchdowns from Cam Wiley, Mo Ibrahim and Seth Green, and blocked a Purdue field goal at the end of the half.
Plummer hit David Bell for a 47-yard touchdown over Tyler Nubin to open the third quarter, getting the Boilermakers within 21-17. Fleck got aggressive on the next drive, with Tanner Morgan hitting Chris Autman-Bell for 33 yards on a 4th-and-8 down to the Purdue 1-yard line. Ibrahim then scored his second touchdown of the night, giving Minnesota a 28-17 lead.
Autman-Bell finished with five catches for 129 yards. That fourth down grab was his biggest of the game.
"I just made my play when the call was made. If my number is called, make the play. Tanner gave me a great ball, a beautiful ball. I just did my job," Autman-Bell said.
Purdue answered with Plummer hitting Bell for his second touchdown of the game from 9 yards out, getting the Boilermakers within 28-24. Ibrahim's third touchdown of the night, from four yards out on the second play of the fourth quarter, gave the Gophers a 34-24 lead after a missed extra point.
Plummer answered again on the next drive, hitting Durham for a 4-yard touchdown to get Purdue within 34-31. The Boilermakers got the ball back with a chance for a game-tying field goal, but it missed wide right.
Minnesota punted it back one more time, setting up the wild finish between the offensive pass interference call and Aune's interception.
In his Big Ten debut, Purdue star Rondale Moore finished with 15 catches for 116 yards and a rushing touchdown in the first half. Gophers' quarterback Tanner Morgan bounced back from a tough game against Iowa with 264 yards passing, completed throws to seven different receivers and averaged more than 17 yards per completion. Ibrahim had 25 carries for 102 yards and three touchdowns before leaving with an injury in the fourth quarter. The two teams combined for 886 total yards in the game.
The Gophers improve to 2-3, despite injuries, COVID-19 issues and overcoming controversy as they face rival Wisconsin at Camp Randall Stadium next Saturday.
"It just meant so much to us because of the adversity they faced. How many people were out, not only that, but how many people were out during the game and how many people actually played in that game and contributed as a team," Fleck said.