The Capri lives on as Black cultural hub in north Minneapolis
MINNEAPOLIS (FOX 9) - It's undergone name changes, changes in ownership, and renovations.  But in an ever-evolving landscape, the historic Capri Theater in north Minneapolis still stands. Located in the heart of the community, for some the Capri represents opportunity.
It's a north Minneapolis landmark, fresh off a multimillion-dollar renovation.
"Gathering space – when you come in here there's nothing negative. It's always something positive," said Gregory Graham.
He's worked at the Capri as a production and tech coordinator for more than 30 years. A part of the west Broadway landscape for more than 95 years, while businesses, people, and resources have come and gone, the Capri Theater still remains.
"It's the northside Guthrie, this turned into the northside Guthrie," said Graham.
A platform for local Black artists, films, and theatrical productions, there's a lot of history here.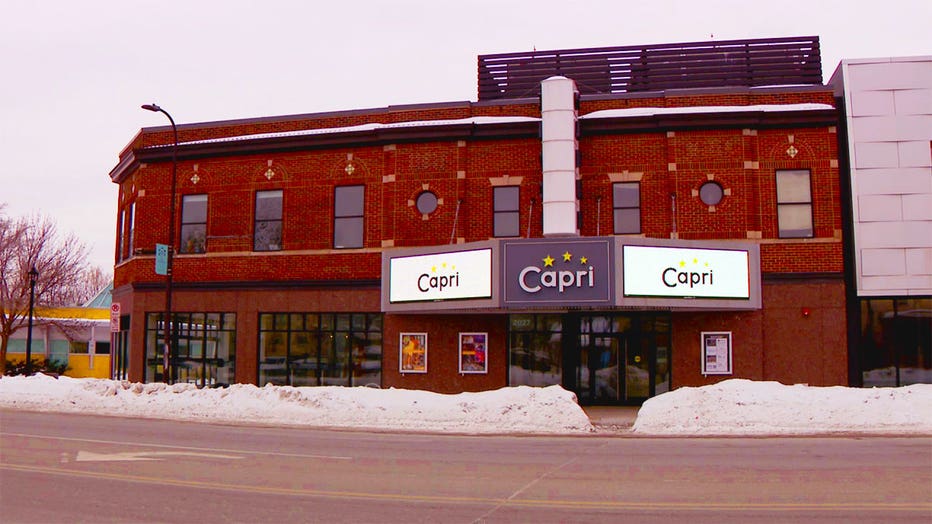 The Capri theater in north Minneapolis has been a hub for Black culture for decades. (FOX 9)
"The musicians used to come here for the battle of the bands, so everybody knew everybody, and some got famous, and some are still trying to gig in bars," said Graham.
One of the most recognizable entertainers to perform here was Prince. In 1979, he played his first shows as a solo artist on the Capri's stage. A portion of the proceeds was donated to the venue.
"I think that it was his way of giving back to where he started. This is where he started," said JellyBean Johnson.
Johnson is a legendary musician and a pioneer of the "Minneapolis Sound." He also grew up just a few blocks away.
"Well for me back in the day the Capri Theater is where I went to see all of my Black exploitation movies (laughs) when I came here," said Johnson.
For a young Black boy living in north Minneapolis in the late 60s, the Capri Theater, Johnson says, was special. "This was right here in the hood, and was easy access something I could walk to, something my mom would let me go to at 13, 14 years old," said Johnson.
"Between the mid-1940s and the mid-1960s there were 13 of these community theaters in north Minneapolis," said Capri Director James Scott.
Today, there's only the Capri.  He's been the director for more than seven years. Scott says when the Capri opened its doors in 1927, it first operated as the Logan movie theater.
"This space went through a few owners I don't think it ever completely went dark," said Scott.
Just three years in, it would undergo a name change. Before landing on the Capri in 1966, it spent decades known as Paradise Theatre. And like the venue which began opening its doors to local bands, social events, and plays, the northside demographic continued to evolve.
"Before the riots in the late 60s on Plymouth Avenue, it was a predominately Jewish neighborhood," said Scott.
The Plymouth Christian Youth Center purchased the property in the late 1980s. "And they made a commitment to keep the space operating for north Minneapolis," said Scott.
Now, it's a predominantly Black community that has long faced social and economic challenges. Just this month, two major retailers announced they're leaving the northside. But amid signs of growth, some see the potential for a revival. "We hope that we're a catalyst for that revitalization," said Scott.
In the fall of 2021, the Capri reopened after undergoing more than $12 million in renovations. With it, Scott says came a renewed focus on the community and youth outreach.
"If we can continue to create opportunities and events that gets louder than that negative noise that's coming out right now out of north Minneapolis then folks will start seeing this as a viable place to come," said Scott.
Like those before her, "I've always been into performing, like singing, acting, dancing, everything," said 12-year-old Ayla Porter.
The Capri's camp program is where she got her start. "It helps you find what you're good at. If that's singing, dancing, acting it's whatever you find here it gives that inspiration that you can go far in that," said Porter.
It's undergone name changes, changes in ownership, and renovations and the Capri Theater is still standing. Looking ahead, Graham expects that the Capri will continue to have an impact on generations to come.
"It's my ministry, that's what I call it. Keep it positive, help these kids, help the neighborhoods, help the adults, help the elders, that's what it means it to me. And yeah, it's my ministry that's why I stay here," said Graham.
From camps for kids to a teen tech center, and an adult community choir, the Capri has a little something for everyone. For more information about its programs, click here.