Pope County deputy killed: Remembering Deputy Joshua Owen
CYRUS, Minnesota (FOX 9) - A Pope County deputy responding to a report of domestic violence was killed in a shooting on Saturday night.
Sunday morning, Pope County Sheriff's Office announced Deputy Josh Owen was the deputy killed in the shooting. The sheriff's office reports Deputy Owens served the force for nearly 12 years. He worked with K-9 officer Karma.
A procession will bring Owen's body from the medical examiner in Ramsey County back to Pope County Monday morning. You can watch live in the player above. The procession is expected to leave Sauk Centre around 9:45 a.m. and reach Glenwood around 10:30 a.m., the sheriff's office said.
"Deputy Owen had a heart as big as his stature," writes the sheriff in a Facebook message. "He leaves behind a wife and a son. He loved his family, his brotherhood, and his community."
Just last month, Deputy Owen was honored along with fellow deputies for their rescue efforts during a house fire in November. He received a "Distinguished Service" award for his actions.
"Deputy Owen and EMS Director Meyer arrived on scene and began immediate patient care," said the sheriff's office. "They maintained their calm and provided professional care to not only the individual who was removed from the house fire but also their distressed colleagues."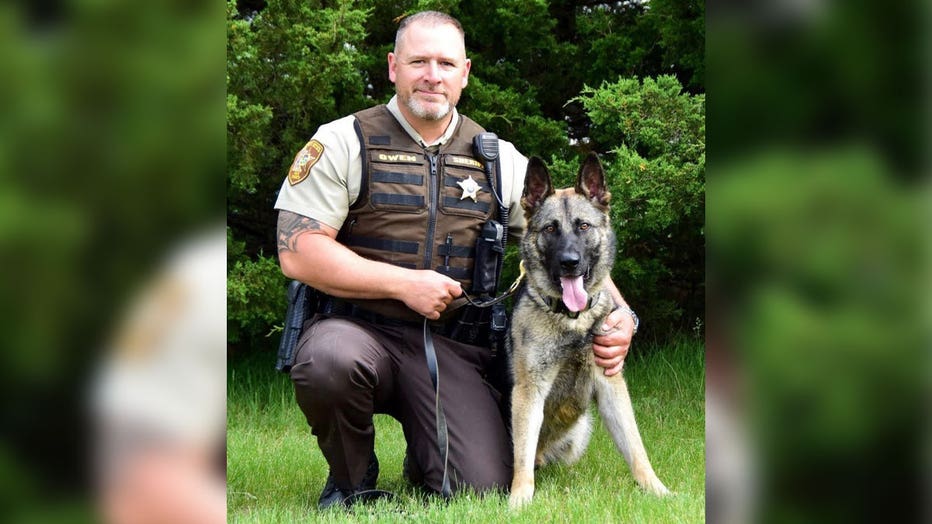 Police agencies are mourning the lost of another people officer, the third killed in a week. Deputy Josh Owen was shot during a response on Saturday night. (Polk County Sheriffs Office / Supplied)
Sadly, Deputy Owen was killed on the day of his 44th birthday. He was born on April 15, 1979. Along with his service to Pope County, Deputy Owen also served in the U.S. Military.
Gov. Tim Walz honored Deputy Owen with a statement on Sunday:

"Minnesota grieves for the family and colleagues of Pope County Sheriff's Deputy Josh Owen, who was shot and killed in the line of duty last night. Deputy Owen was a husband, a father, a veteran, and a hero," said Governor Walz. "Just last year, he was honored with a distinguished service award after helping to rescue a neighbor from a burning home. He bravely served his state and nation. Gwen and I are praying for his family and community through this tragedy."