Minneapolis sets sinkhole repair deadline as question remains: What happened to the doll?
MINNEAPOLIS (FOX 9) - As the City of Minneapolis repairs the sinkhole that has inspired hundreds of tweets and TikTok videos -- a question still lingers for many residents. 
What happened to the Raggedy Ann doll that appeared at the bottom of the hole the night it opened up at the intersection of 27th Street and Girard Avenue on April 9?

"I think about Raggedy Ann every time I pass. Was her body removed or did they bury her under more rubble? How did she get in there in the first place?" Minneapolis Katka Chapin told FOX 9
Heather Silsbee voiced a similar sentiment. 
" I'm feeling anxiety on behalf of the Raggedy Ann and her whereabouts. How did she get down there? Who took her away?" she said.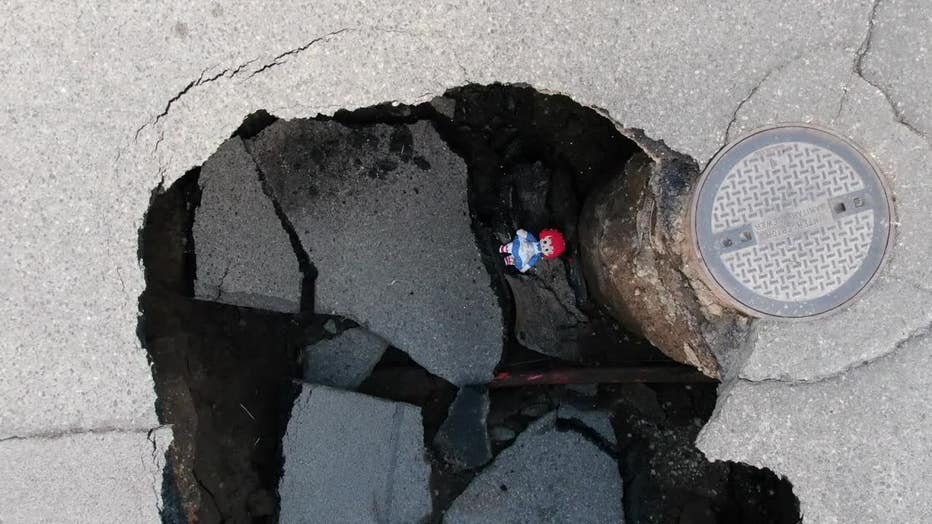 A sinkhole at the intersection of 27th Street and Girard Avenue South in Minneapolis.  (FOX 9)
Sinkhole Repair to take more time
City staff reached late in the day Monday and did not immediately know Anne's whereabouts, but promised to look into it. 
The Public's Work department confirmed in an update Friday that crews had found additional issues with a sewer pipe, and the repairs would not be complete until the third week of May. 
"The initial scope for repairing the sinkhole included replacing the sanitary sewer line.  With the additional deficiencies found during excavation, the project's completion timeline has been extended to approximately the 3rd week in May.  We apologize for the inconvenience that this causes the community. It is critical for us to repair this issue thoroughly," the statement said. 
Sinkhole tourism 
Not everyone is celebrating the hole's pending closure. It became an early spring gathering spot in the city, drawing dozens of sinkhole tourists, with many throwing coins into it as the gap as they made wishes. 
"For a couple of days, it really was like a weird Third Space that people hung out at! Everyone loves a good hole," local resident Grant  N. said via Twitter. 
Chaplin, who lives across the street from the whole, said it hadn't caused too much of an issue, other than possibly causing a DoorDash order to go to the wrong address. She thinks neighbors should come together to take advantage of the time they have left with it. " Hoping someone organizes a Sinkhole de Mayo event," she said. 
If you know where the doll is or have information that could lead to its discovery, please contact our reporter.