Minneapolis 3rd precinct: 2 sites considered for new building
MINNEAPOLIS (FOX 9) - The City of Minneapolis has begun the process to bring the 3rd Precinct building back to the community after it was vacated and damaged during the civil unrest following George Floyd's murder in May 2020. 
The city says officers with the 3rd Precinct have been operating out of a downtown facility since the 3000 Minnehaha Ave. building was damaged. This has left the people in the precinct, which is in an area of south Minneapolis that's east of Interstate 35W and south of Interstate 94, without the "same access to public safety services" as those in other areas of Minneapolis, the city said in a news release on Wednesday.
So the city is starting a process to bring a precinct building, which offers 24-hour, walk-in assistance, back to south Minneapolis.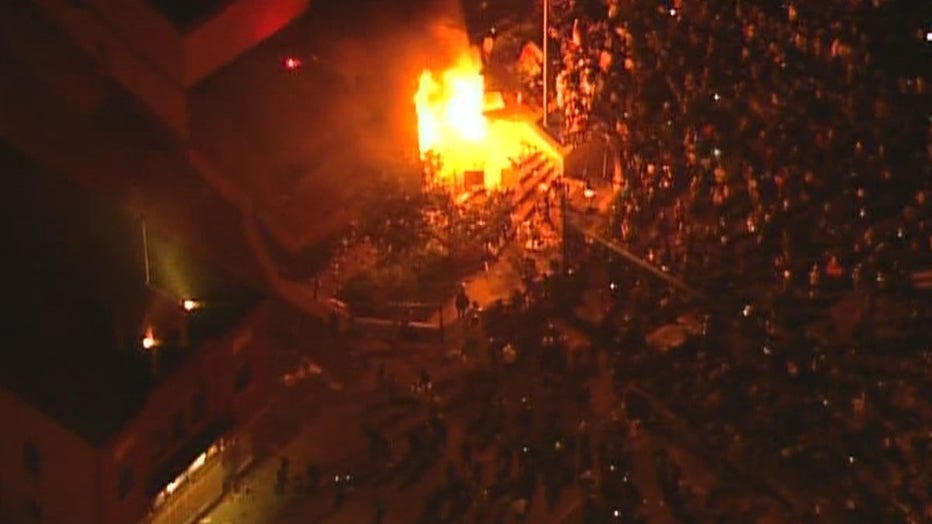 The Minneapolis Police Departments Third Precinct burns during a riot following the death of George Floyd in May 2020. (FOX 9)
It will hold a series of community-wide discussions in April to discuss the future building, including a business-owner conversation and three sessions for the general public. 
Business owner session: 6:30-8:30 p.m. Tuesday, April 11, at The Hook and Ladder Theater & Lounge, 3010 Minnehaha Ave.
General public session: 6:30-8:30 p.m. Thursday, April 13, at Midtown Global Market, 920 E. Lake St.
General public session: 10 a.m.-12 p.m. Saturday, April 15, at Roosevelt High School, 4029 S. 28th Ave.
General public session: 6:30-8:30 p.m. Wednesday, April 19, Location to be determined.
2 sites being considered for new 3rd Precinct
Two sites are being considered for the home of the new 3rd Precinct: the former precinct site at 3000 Minnehaha Ave. and a vacant city-owned lot at 2600 Minnehaha Ave. 
The city says these site options were selected after the city surveyed potential sites from July 2020-December 2022. The city considered the site's advantages and potential obstacles to access and construction.
"Identifying two viable locations for the 3rd Precinct building has been an enterprise-wide effort, and I'm grateful to our staff who have worked around the clock to produce a thorough analysis for neighbors to consider," Mayor Jacob Frey said. "The next phase of this process will undoubtedly be marked by debate and discussion, but we should all agree on one thing: there should be a 3rd Precinct building in the 3rd Precinct."
Minneapolis is working with DeYoung Consulting and Longfellow Community Council to implement a "community engagement plan" for the 3rd Precinct and the facility at Lake Street and Minnehaha Avenue, with the goal of collecting feedback from community members to help inform future decisions about the precinct's location and the function of the precinct. 
Information about this project is on the city's website.