Man shot by FBI in Minneapolis was livestreaming standoff
MINNEAPOLIS (FOX 9) - An armed man who was shot and killed by an FBI agent Thursday morning in Minneapolis was livestreaming his final moments.
The shooting is also detailed in a search warrant issued Thursday related to the standoff. The search warrant was issued after the deadly shooting, to allow investigators to search the home on Dupont Avenue near Dowling Avenue in Minneapolis' Folwell neighborhood.
What happened this morning?
The FBI Minneapolis branch said SWAT operators and federal agents were serving an arrest warrant on the 3700 block of Dupont Avenue North Thursday morning. The subject of the warrant, identified as Chue Feng Yang, barricaded himself inside the home.
The standoff went on for several hours and Yang streamed it on social media, said Minneapolis Police Chief Brian O'Hara and Hennepin County Sheriff Dawanna Witt in a joint press conference. 
Yang emerged from the home around noon and was allegedly armed. A federal agent shot him, and Yang was transported to the hospital where he died from his injuries.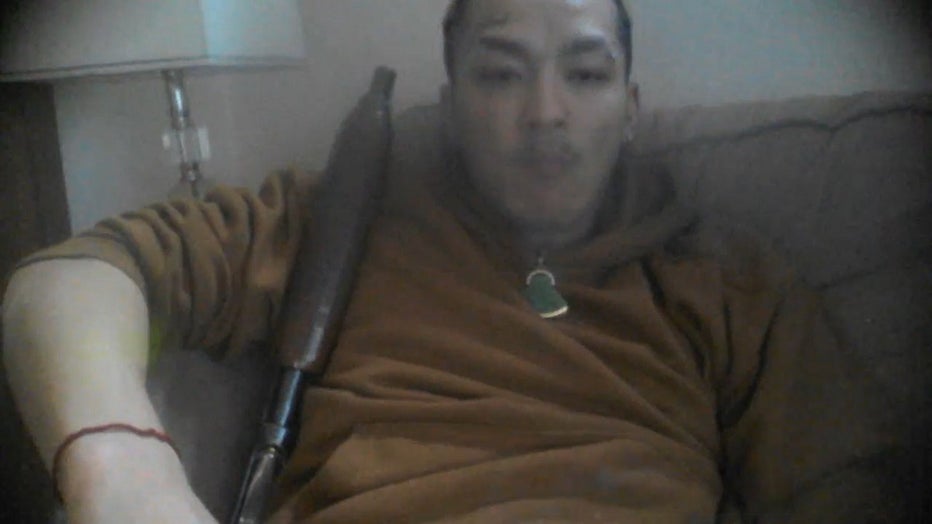 Why was Yang wanted?
Yang was sought in connection to a carjacking warrant. The search warrant details that the arrest warrant is connected to a January incident in Little Canada where a group in a stolen vehicle threw a puppy out the window while fleeing law enforcement.
The chase ended with a PIT maneuver by officers with Yang fleeing from a passenger seat, the warrant alleges. Officials say his cell phone was found in the stolen truck.
The search warrant states Yang had other unrelated warrants out of Ramsey and Hennepin counties. Last year, FOX 9 reported on charges filed against Yang for a separate incident involving animal abuse.
CONTENT WARNING: Gunshots are audible in the following clip
Facebook live stream depicts Yang's final moments
As the standoff was ongoing, agents say Yang was streaming the situation on Facebook.
Videos show Yang carrying a sawed-off shotgun, talking with negotiators, and arguing with his girlfriend about his next moves – up until his final moments. At times, his girlfriend attempts to talk Yang into giving up peacefully – which Yang rejects.
The warrant states that Yang told the FBI he had a bomb and said "he hoped FBI agents brought 'body bangs.'" Yang also threaded to set off the bombs if agents entered the home.
Ultimately, Yang, tied to his girlfriend with what appears to be a bedsheet, exited the home with the shotgun. His girlfriend also appears to have a pistol that she drops as they walk out the door. The next thing heard on the livestream is gunshots.
The search warrant says the FBI agents determined Yang posed a threat to his girlfriend because the shotgun was pointed at her head and "lethal force was necessary to protect and preserve [her] life."
Yang was transported to North Memorial Hospital where he was pronounced dead. His girlfriend was treated at the scene for a possible fentanyl overdose.