Happy 59th birthday Gayle Elizabeth Sample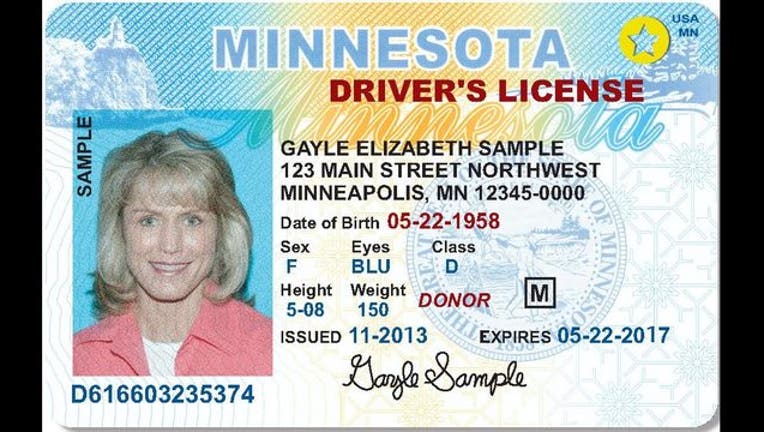 article
ST. PAUL, Minn. (KMSP) - Happy 59th Birthday Gayle Elizabeth Sample! The woman on the State of Minnesota's sample driver's license has a birthday of May 22, 1958. Gayle has been the face of Minnesota's driver's license news updates for several years, including the much-debated subject of REAL ID, which finally passed the state legislature last week.
"Thank you, EVERYONE on Facebook and Twitter, for reminding me today's my birthday," The Minnesota Department of Public Safety posted on Facebook, on Gayle's behalf. "I don't feel a day over 40. I typically try and lay low on this special day. After all, what lady wants her age AND weight plastered all over social media?"
DPS added that no real IDs were used in the making of this fake birthday. Gayle Elizabeth Sample is an actress, hired by the card company, with a fake name and fake personal information used on the stock photo ID.
REAL ID: What you need to know
REAL ID legislation signed by Minnesota Gov. Mark Dayton at the end of last week now allows the Minnesota Department of Public Safety Driver and Vehicle Services to begin the process of making state-issued IDs compliant with the requirements of the federal REAL ID Act. The new law requires Minnesota to begin issuing the new licenses by Oct. 1, 2018. 
YOU DON'T NEED TO DO ANYTHING YET: A REAL ID compliant driver's license or ID card won't be available until next year, so there is nothing for you to do at this time. There is no need to get a new license unless it's time to renew an expiring license. If a driver's license expires before October 2018, individuals will renew in same way they do today.
CURRENT STATUS FOR TRAVELERS: Minnesotans can continue to use their current driver's license as a form of ID to board domestic flights until Jan. 22, 2018. Minnesotans who plan to visit federal facilities, nuclear power plants and military bases will need to show an alternative form of ID in addition to their state driver's license. Contact the agency in charge of the location you plan to visit to confirm what alternative forms of ID are accepted.
YOU WON'T BE FORCED TO GET A REAL ID LICENSE: Once REAL ID-compliant cards are available, Minnesotans may choose a REAL ID compliant card or a non-compliant card when they renew or apply for a new license or ID.