Daunte Wright shooting protests continue for 5th night in Brooklyn Center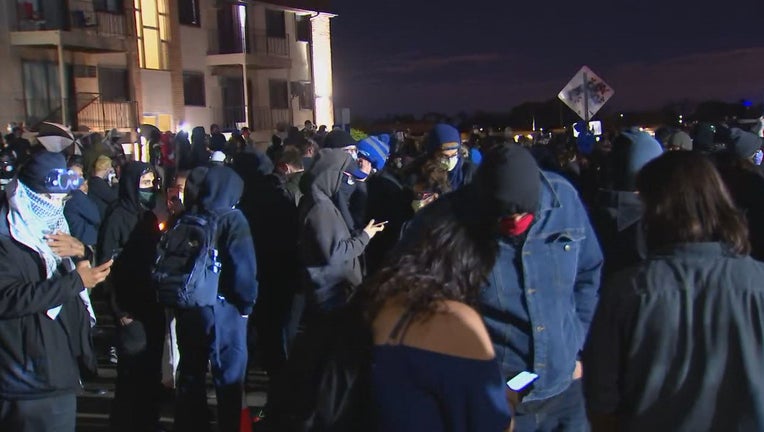 article
BROOKLYN CENTER, Minn. (FOX 9) - For a fifth consecutive night, demonstrators gathered outside the Brooklyn Center to protest the deadly police shooting of Daunte Wright.
Law enforcement appeared to change their response strategy Thursday evening. Officials set up a second line of fencing between the protesters and the police department. Officers also stood farther back from the barricades, creating more distance from the protesters.
While the group numbering in the hundreds set up outside the city's police department on North Humboldt Avenue, police mostly stayed back from fencing, a more laid-back approach compared to confrontations earlier in the week.
While the city ordered a 10 p.m. curfew, law enforcement at the police department never issued a dispersal order or threatened arrest for protesters. Instead, police hung back and waited out the crowd, which went from an estimated 200 to 300 around curfew to less than 20 about an hour and a half later. As of midnight, police had announced no arrests in connection to the protests.
Operation Safety Net, which is coordinating law enforcement response, reported some protesters were throwing bottles at the fence and firing fireworks throughout the night.
While some of the rallies this week have been peaceful, at times the demonstrations have turned violent, leading to clashes with law enforcement. Officers have used chemical irritants and flash bangs on protesters.
In a letter, Hennepin County Sheriff David Hutchinson called out the City of Brooklyn Center for creating "significant confusion" regarding mutual aid response amid the ongoing unrest. The city council passed a resolution to ban the use of some crowd control tactics, such as tear gas, which the mayor supported. However, the sheriff says the resolution does not apply to the joint law enforcement operation responding to the protests.
Wright, 20, was shot and killed by a Brooklyn Center police officer on Sunday during a traffic stop. The officer resigned and has been charged with second-degree manslaughter.