All six suspects now charged in Bloomington homicide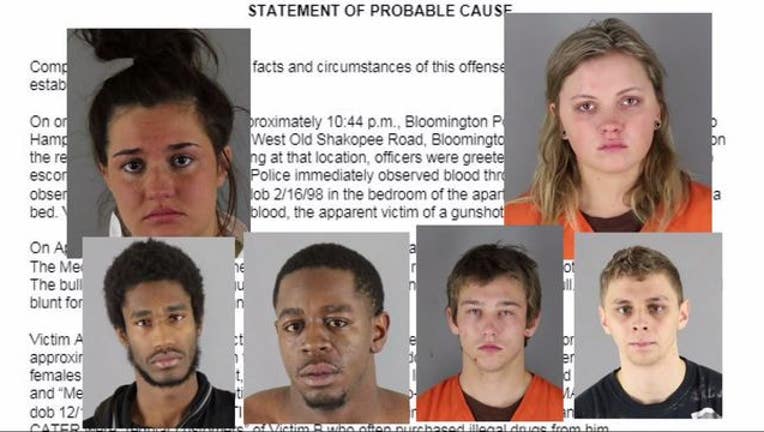 article
BLOOMINGTON, Minn. (KMSP) - All six arrested suspects have now been charged in the shooting death of 19-year-old Bloomington man Corey Elder last Thursday.
Tarrance Murphy, 20, Maurice Verser, 33, and Alec Streit, 20 were charged Tuesday with two counts of second-degree murder and one count each of first-degree burglary and second-degree assault.
These charges are identical to those that were passed down Monday to the first three suspects--Megan Cater, 19, Noah Peterson, 20, Briana Martinson, 20--despite Verser being the one who pulled the trigger.
Police say all six suspects regularly bought drugs from Elder.
A search warrant issued Tuesday details the events leading up to the shooting, which allegedly took place over a drug dispute and a stolen video game console. According to the charges the group had only intended to scare Elder and steal some items, but ended up killing him instead.
While spending time at Elder's apartment two days before the incident, police say Martinson and Cater left a bottle of prescription pain pill at his apartment, contacting his girlfriend the next day in an attempt to retrieve them. 
In talking to the women afterwards, Streit told them that Elder had ripped him off as well and that he was going to "get his boys from Minneapolis with a strap," according to the search warrant.
On the day of the homicide Murphy and Mercer assaulted Elder in his apartment while Martinson and Cater rummaged through his room looking for the pills she had lost. The other two men waited in the car. 
Martinson eventually found the pills, stealing them and a bag from Elder's apartment before Verser allegedly shot him.
In their investigation police found Vercer had been in possession of a stolen handgun in 2016 and, in a separate incident, was the victim of a drive-by shooting earlier that year. He had also been the suspect in multiple assault and domestic violence cases.