Minnesota election results 2022: Moriarty wins Hennepin County Attorney race
MINNEAPOLIS (FOX 9) - Mary Moriarty has defeated Martha Holton Dimick in the race for Hennepin County Attorney.
Former public defender Moriarty won the race to replace the outgoing Mike Freeman, who served as Hennepin County Attorney since 2006. As of 9:46 p.m., Moriarty won 57.66% of the vote to Holton Dimick 41.76%, with 97.23% of precincts reporting. 
"I am deeply grateful to everyone who took the time to vote today and over the last six weeks," Moriarty said in her acceptance speech at the campaign's election night party Tuesday. "You, the voters, have spoken and are demanding better of our criminal legal system. This is our time to forge a new path forward: one that keeps our communities safe while ending the cycles of mass incarceration that have deeply harmed communities of color and broken up too many families."
She added, "I look forward to partnering with elected leaders, schools, families, community members, and organizations to address violence through a public health lens and ensure that youth who commit crimes have options with structure and support to help them succeed."
The candidates most sharply contrast over police issues. Holton Dimick says she views Moriarty as dangerous, while Moriarty says Holton Dimick's arguments represent the status quo.
Both candidates are residents of Minneapolis and the future of policing in the city became a main topic during the campaign. Holton Dimick said she voted no on the 2021 Question 2 ballot measure that would have replaced the Minneapolis Police Department with a Department of Public Safety. Moriarty declined to say how she voted on the issue.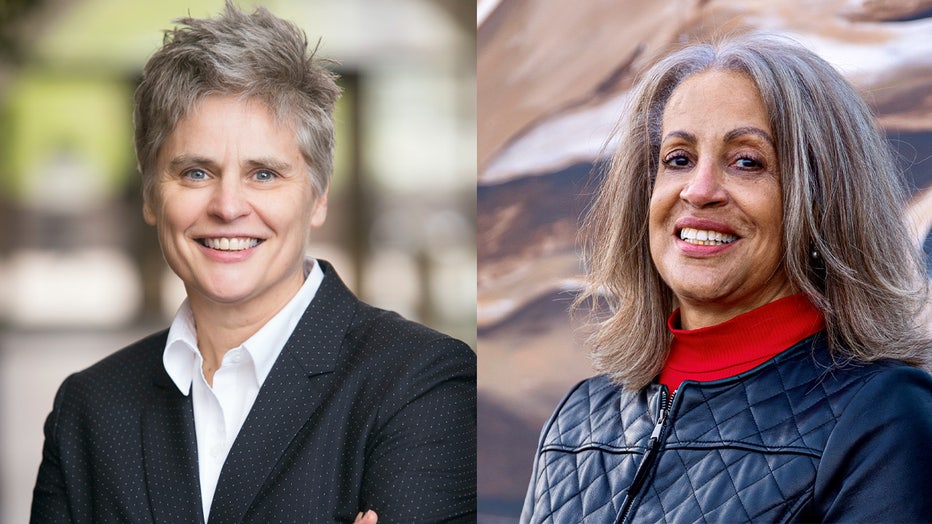 Mary Moriarty (left) and Martha Holton Dimick.
Tap or click on the race below for individual results.
U.S. House:
Minnesota Senate: 
Minnesota House: