Winter storm warning for Twin Cities Monday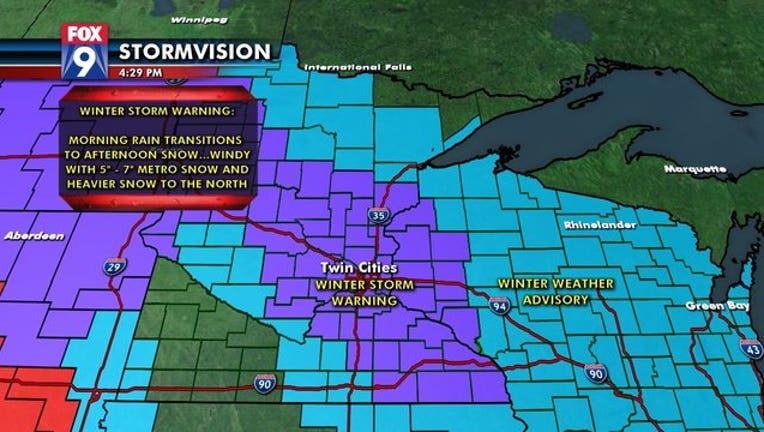 article
(KMSP) - With warmer weather making its way through the Twin Cities following a snowstorm last weekend, many locals could be forgiven for thinking winter was on its last leg--though, alas, the season isn't going out that easily.
New models show between five inches and seven inches of snow in the metro area throughout the day Monday, with totals more heavily concentrated north of Interstate 94 during the afternoon, though the exact numbers will likely change. Officials say the precipitation will begin as drizzle early Monday morning, though the exact timing of the transition to snow is somewhat of an open question. The resulting mix will make for a sloppy morning commute Monday regardless.
A winter storm warning for most of the Twin Cities and the area northwest to Fargo will be in effect from 6:00 a.m. Monday to 6:00 a.m. Tuesday, with a winter weather advisory issued for a band from Roseau to Duluth during that same time period.
Areas south of the Twin Cities, however, may see no snow at all if temperatures manage to stay above freezing.
SCHOOL CLOSINGS: You can find the updated list at fox9.com/closings.
GET THE FOX 9 WEATHER APP: You can track the snow and temperatures in your specific location on the Fox 9 Weather App, which also includes a live, interactive traffic map with road conditions and active crash incidents. You can also check the updated forecast at fox9.com/weather.