Rain, storms, heat warning spread across Minnesota this weekend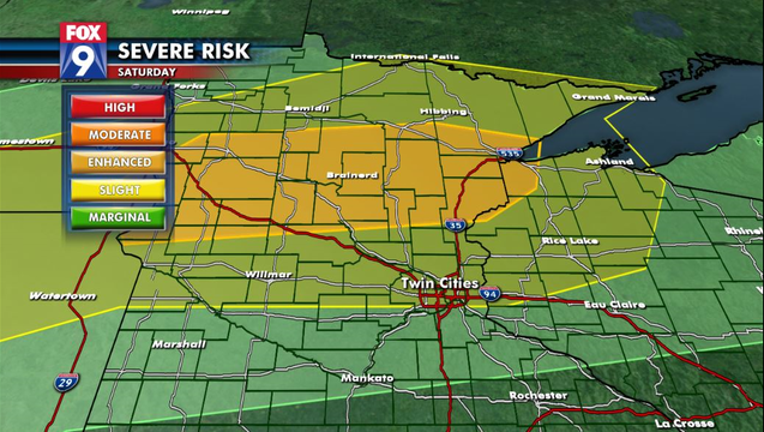 article
(KMSP) - The Twin Cities metro area saw some heavy rain early Saturday, but the storms are expected to continue north of Interstate 94 through early afternoon.
Parts of northern and central Minnesota from Duluth to Fargo will be under an Enhanced Risk of Severe Weather, while the northern 2/3 of the state and western Wisconsin (and the metro) will be under a Slight Risk of Severe Weather.  
The rains will likely put a large temperature contrast across the state. Where the leftover boundary ends up remains to be seen, but it will likely be along or just north of the boundary where thunderstorms fire up late today or this evening.
These storms will have the potential to produce tornadoes and hail initially, but likely transition to a wind and rain event later, if they can grow and expand. The key here is, because of morning storms, the "bullseye" of overall risk may shift southward later today so this will need to be watched closely.
TIMING: 
•    ROUND 1: Non-severe storms this morning and early afternoon
•    ROUND 2: Evening storms likely forming along our temperature boundary somewhere in central or northern MN 
LOCATION: 
•    Most of central/ northern MN and western WI 
THREATS:
•    Main threat is flash flooding and damaging winds
•    Initial but secondary threat will be isolated tornadoes and large hail
OTHER:
•    EXCESSIVE HEAT WARNING: for metro until Sunday night