Minnesota weather: Windy Wednesday, warmer weather ahead
MINNEAPOLIS (FOX 9) - It'll be a windy one on Wednesday, but warmer weather is ahead.
A little mist and drizzle are in store Wednesday morning for the Twin Cities, then a drying trend overall as temperatures slide back below freezing by lunch. Winds will drastically increase into the afternoon, gusting up to 40 mph, with a stray flurry possible. 
Meanwhile, the blizzard warning, winter storm warning and winter weather advisory are in effect for northern and western Minnesota until 7 p.m. on Wednesday. The area is seeing slippery roadways, falling snow and blowing snow on Wednesday, which is making travel difficult. Though conditions are expected to gradually improve throughout the day.
Thursday will be bright and breezy with highs in the 30s. But then it warms up. 
Warmer weather is coming
Friday will be seasonable with a high of around 50 degrees. Saturday will be nice, with a high of 61 degrees and breezy. Sunday is looking nice, with a high of around 64 degrees. 
Looking ahead to next week, Monday will be gorgeous with a high in the upper 60s and on Tuesday there's the potential of hitting 70 degrees.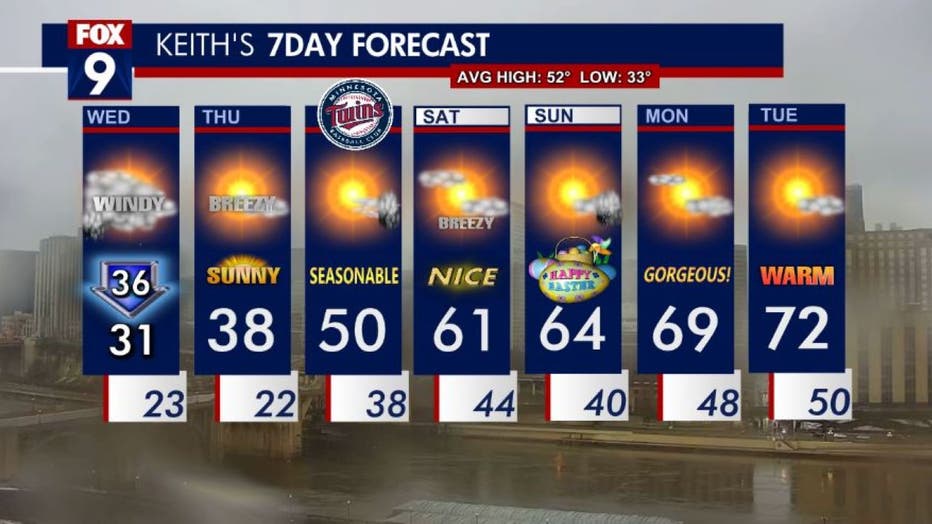 There's a warmup in the seven-day forecast.