Minnesota weather: Rain, thunder for Twin Cities; snow in northern MN
MINNEAPOLIS (FOX 9) - Northwestern Minnesota could see a foot or more of snow on Tuesday, while the Twin Cities metro will likely see mostly rain and thunder.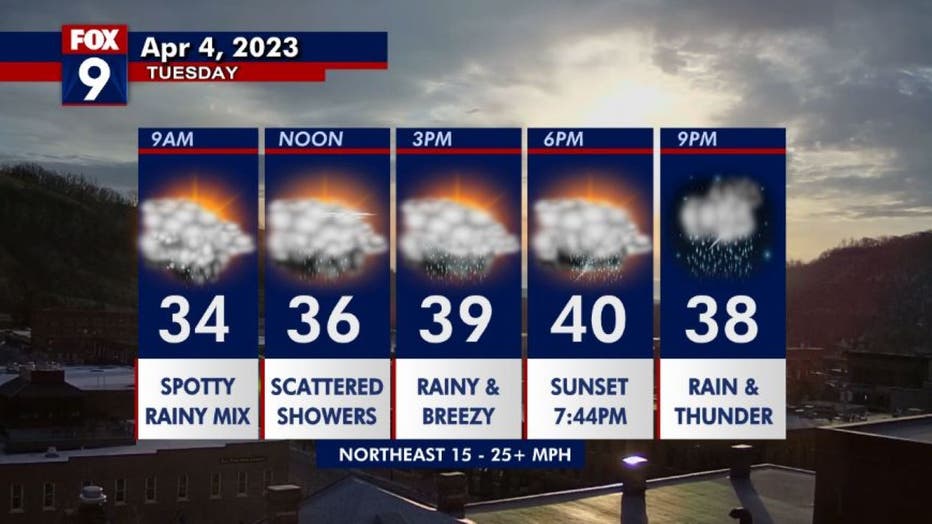 Rain slowly rolls across the Twin Cities metro on Tuesday (some cameo flakes mixing in at the onset) with occasional thunder Tuesday evening and Tuesday night. Watch for icing in western and central Minnesota with snow and mix. All snow is expected a
An area of low pressure is moving into Minnesota as we go into the next two days. South of the line, which includes the Twin Cities and much of southern Minnesota, will see rain and storms. Along and north of the line, there's a concern for freezing rain, and well north of the line – in northwestern and northern Minnesota – it'll be all snow.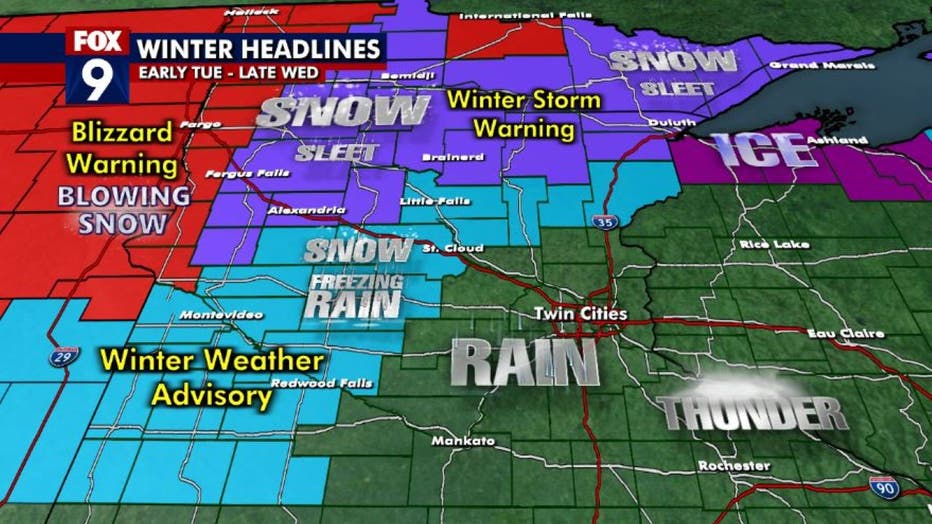 Warnings and advisories in effect for this week's storm.
Warnings and advisories are in effect for the areas north of the line, including a blizzard warning for western Minnesota, a winter storm warning for much of northern Minnesota, and a winter weather advisory for the potential for freezing rain for areas of central and southwestern Minnesota. 
There are icing concerns in central Minnesota and the south shore of Wisconsin.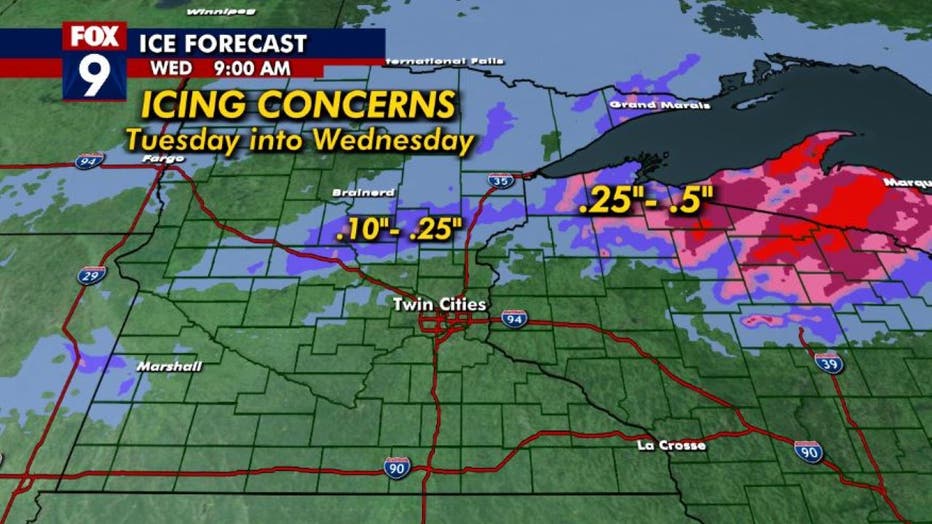 Icing is possible in central Minnesota and the south shore of Wisconsin with this storm.
The Twin Cities is in this Goldilocks spot, which is only expected to get rain and some occasional thunder, with maybe a little bit of snow mixing in at times. Southeast of the Twin Cities, there's some potential for some severe weather, including in Rochester and Albert Lea. 
How much snow will fall?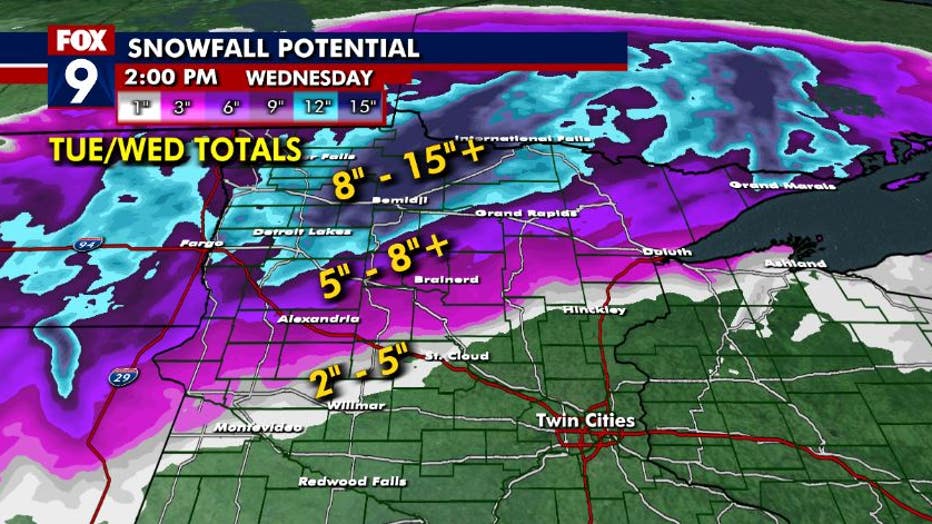 A look at possible snowfall totals Tuesday-Wednesday.
Outside the metro area could see 2-5 inches of snow in the advisory zone by the time the storm moves out on Wednesday. 
About 5-8 inches is possible near Brainerd, Grand Rapids and Ely. And then 8-12 inches, with some pocked 15 inches possible, is expected in northwestern Minnesota, especially from Thief River Falls up toward Bemidji. 
Warmer for the weekend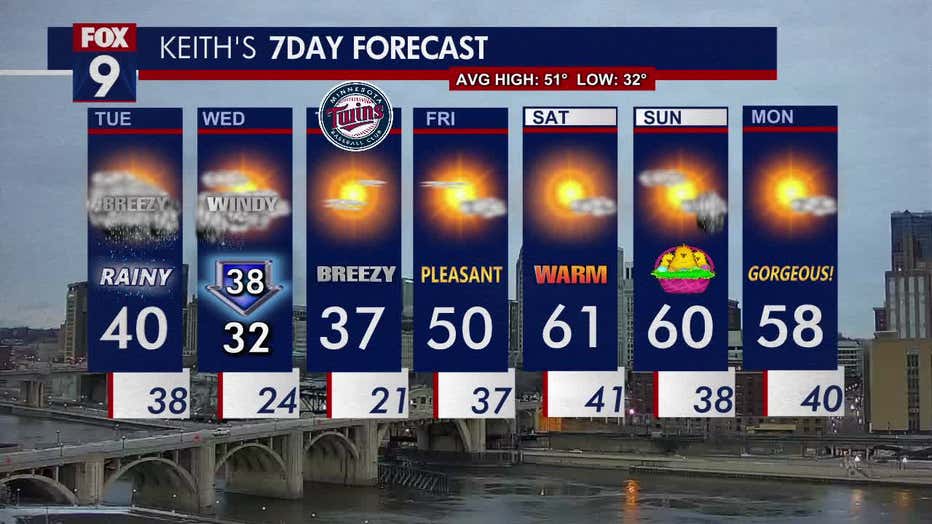 The high on Tuesday will be around 40 degrees for the Twin Cities metro. Wednesday will be colder, dropping to 32 degrees.
It'll be sunny and breezy with a high of around 37 degrees on Thursday for the Minnesota Twins' home opener. 
Then it warms up. Friday will be pleasant with a high of 50 degrees. Saturday will be warmer with a high of around 61 degrees. Sunday will be nice with a high of around 60 degrees. Monday will be gorgeous with a high of around 58 degrees. 
The average high this time of year for the Twin Cities is 51 degrees, with a low of around 32 degrees.