Minnesota weather: Warmer this weekend; snow possible next week
MINNEAPOLIS (FOX 9) - After a cold start Friday morning, temperatures will become more seasonable by the evening. It'll be even warmer this weekend. 
The high on Friday will be in the upper 20s for the Twin Cities metro but it won't get there until around sunset, with lots of sunshine expected throughout the day. It won't cool down much overnight, but it will be breezy with a low of around 23 degrees in the metro.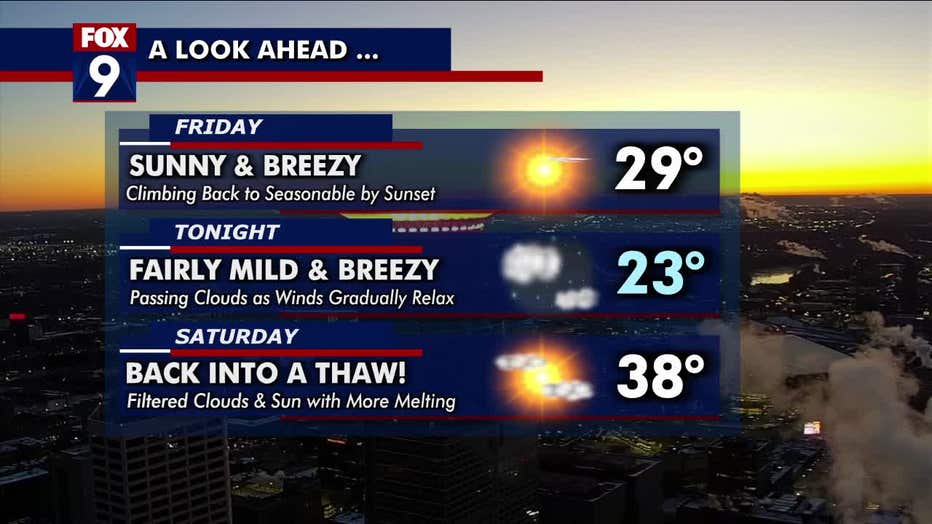 A look at the weekend, which features warmer-than-average temperatures.
The thaw returns on Saturday, with a high of 38 degrees, filtered clouds and sun. This will lead to more snow melting. 
Sunday will also be mild, with a high of around 37 degrees. It's looking warm for Presidents Day on Monday, too, when the high will be around 35 degrees for the Twin Cities metro. But the holiday comes with the opportunity for a quick dash of snow in the Twin Cities. 
Cooler weather returns for Tuesday, when the high will be in the mid-20s. This will bring the opportunity for some shovelable snow from Tuesday night into Thursday. 
Here's a look at the seven-day forecast: