Minnesota weather: Another record set for high temp on Thursday
MINNEAPOLIS (FOX 9) - We set another record for high temperatures on Thursday in the Twin Cities. 
So far, it's reached 86 degrees on Thursday, beating the previous record of 84 degrees set in 2006. 
The original story from Thursday morning is below.
After setting a record of 88 degrees for the date on Wednesday, another record-breaker is in store on Thursday. 
The high temperature could climb to 88 degrees in the Twin Cities, which would set a record for the date. The current record is 84 degrees, set in 2006. 
A frontal boundary cuts northern Minnesota off from the heat, with people in the Arrowhead looking at high temperatures in the 40s and 50s. 
With all this warm weather, the snow pack has largely disappeared. The National Weather Service shared this graphic today: 
Friday is also looking like a warm one, with a high of around 81 degrees. If temperatures climb that high, it would mark the fourth day in the 80s in a row. 
But after that, it gets chilly. Saturday's high will be around 51 degrees, with rain showers. Sunday will be a chilly 46 degrees and windy. 
Temperatures return to the 60s for next week. 
Here's your seven-day forecast: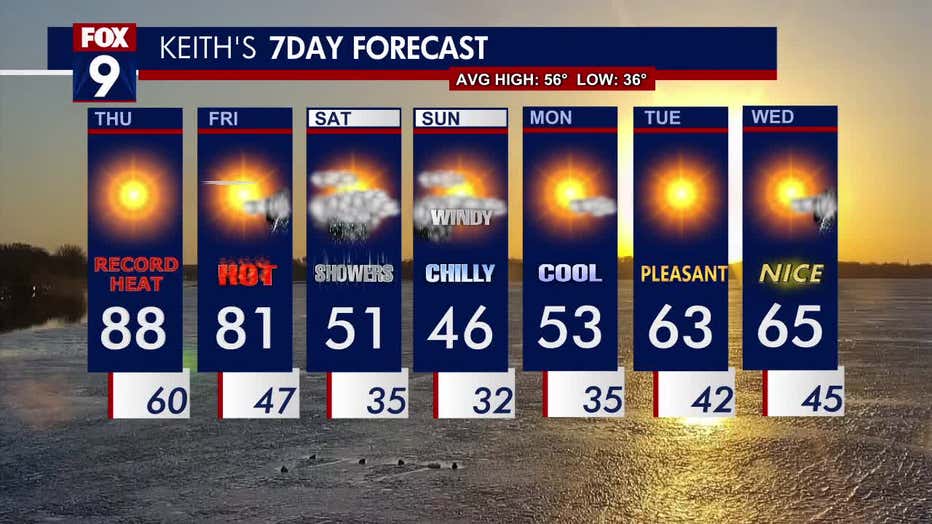 The seven-day forecast. (FOX 9)