Minnesota weather: Memorial Day weekend forecast
MINNEAPOLIS (FOX 9) - Memorial Day weekend is here — and the weather forecast is looking quite perfect. 
Clear sky and sunshine on Friday, with highs in the upper 70s to low 80 degrees for the Twin Cities metro area. Western Minnesota will be in the low 80s, and highs in the upper 70s and low 80s are expected across much of northern Minnesota, though areas of the North Shore will likely see highs in the upper 60s. 
Overnight, lows will dip into the 50s across much of Minnesota, with a fairly clear sky. 
Saturday will feature plenty of sunshine and highs in the low 80s across most of Minnesota (the North Shore will be a tad cooler, in the upper 60s and 70s). The Twin Cities will see a high of around 81 degrees.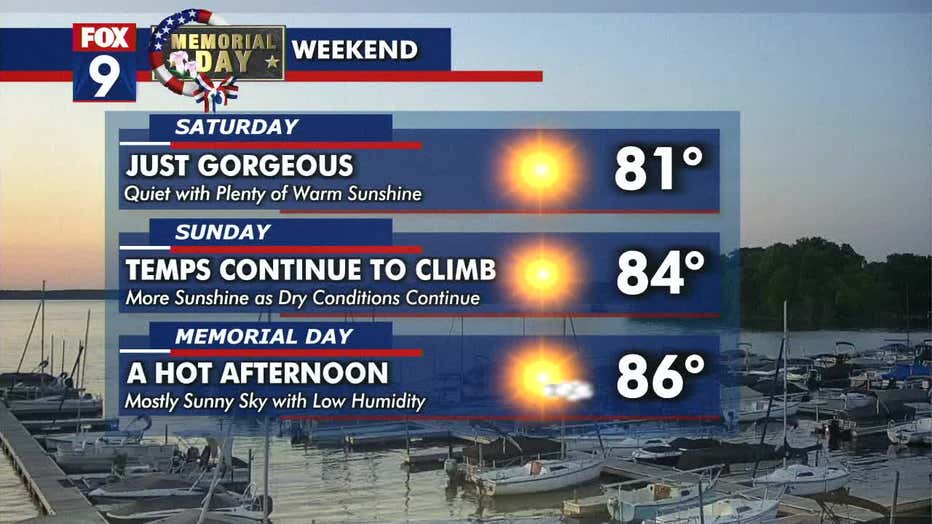 Temperatures continue to climb through the holiday weekend, with a high of 84 degrees on Sunday in the Twin Cities, with more sunshine and dry conditions. 
Memorial Day will feature a hot afternoon with low humidity and sunny skies. A high of 86 degrees is likely in the Twin Cities. 
Highs in the upper 80s and maybe even a 90-degree day are possible early next week. There is a chance for thunderstorms Tuesday-Thursday, but that chance is very low as of this writing. Here's your seven-day forecast: