Minnesota weather: Longest stretch without rain in May in the Twin Cities in decades
MINNEAPOLIS (FOX 9) - The excitement continues to build for the long holiday weekend and the unofficial start to summer. Sunshine and dry weather is very likely all three of our weekend days, which would be the first time occurring in the Twin Cities since 2007. 
That can be misleading though as we've seen several Memorial Day weekends over the last 15 years that have managed just one 100th of an inch of rain and very pleasant temperatures. Others have had some overnight rain, but the daylight hours were dry when many of us were awake. Clearly, though, many of us remember the truly dreadful years that were wet and chilly, which are far rarer than our memories lead us to believe. 
The biggest difference this year compared to recent years is the sheer lack of almost any chance at moisture for the whole weekend. Even among our mostly dry Memorial Day weekends of past years, the forecast had opportunities for rain a lot of the weekends that we had to plan for. 
That is probably the biggest change this year is that there is essentially a zero percent chance of rain. All. Three. Days.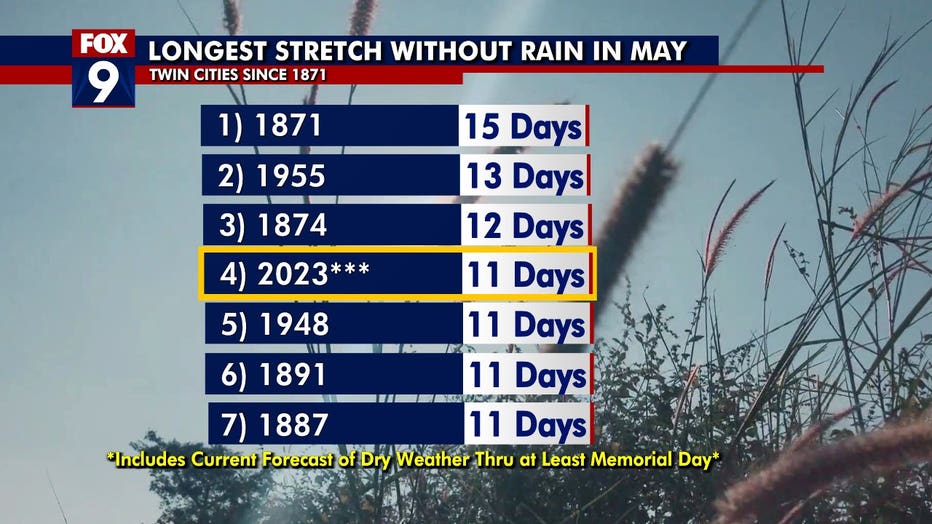 While our totally dry weekend may be a touch misleading, here's something that isn't: Providing the forecast holds, we are practically guaranteed an 11-day stretch with dry weather in the metro leading up to and through the holiday. That has not occurred in DECADES. You have to go back to 1955 to find an equally dry stretch in May. But you have to go back to 1948, which included an equally dry stretch with Memorial Day weekend involved. If we can manage to stay dry through the end of the month, which is a legit possibility, then it will be the second-driest May stretch in more than 150 years.
Eleven consecutive days without rain isn't exactly a groundbreaking stretch. We see these kinds of dry spurts several times a year on average. However, when it happens this time of year, it is quite unusual. While June and July average more rainfall than the month of May, May experiences rain more often than any other month. On average, it will rain 38% of the time during the month, or roughly 12 of our 31 calendar days, totaling just shy of 4 inches of water. It's this persistent rain that can make May rather gloomy, but really helps plants, trees and flowers get established for the growing season before the heat and more splotchy rains arrive for the summer.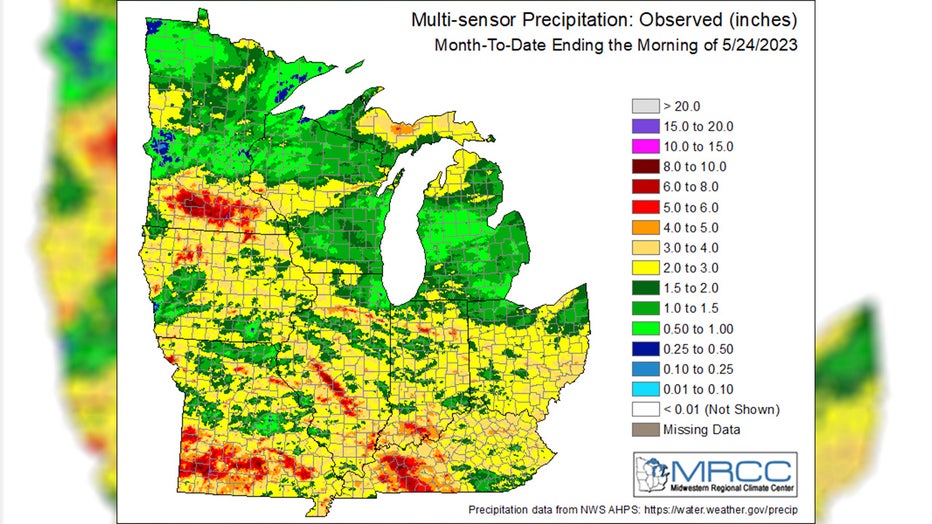 With the last two summers fresh on our minds, drought is a word that may get tossed around yet again. While it is WAY too early to tell if we're in for another very dry summer, this quiet stretch certainly has drought vibes moving forward. Weird to think, though, that this dry stretch is welcome news for a lot of southern Minnesota that experienced some big-time rains earlier this month with many farmers having to replant crops. 
If the heat builds next week, and we don't get much appreciable rain in the first few days of June, we will certainly be dabbling with drought yet again, especially in parts of central Minnesota.