Minnesota weather: Here's how warm it'll get this weekend
MINNEAPOLIS (FOX 9) - A seasonably chilly day on Friday ahead of a warmer weekend, where highs could climb close to 40 degrees.
Friday will feature seasonable sunshine, with relaxing breezes and a bright blue sky. The high will be around 28 degrees in the Twin Cities metro. It'll be a bit cooler in northeastern Minnesota and a few degrees higher in southwestern Minnesota. 
Friday night won't be as cold and will be fairly clear with a low of around 20 degrees.
The melting trend returns on Saturday and into next week. Saturday will be mild with pleasant sunshine and a high of around 38 degrees in the Twin Cities. Highs in the mid to upper 30s are expected across much of Minnesota and western Wisconsin on Saturday. 
Sunday will offer more melting, with a high of 37 degrees. It'll be warm to start the work week, with a high of 40 degrees on Monday and a high in the low 40s on Tuesday, which is Valentine's Day.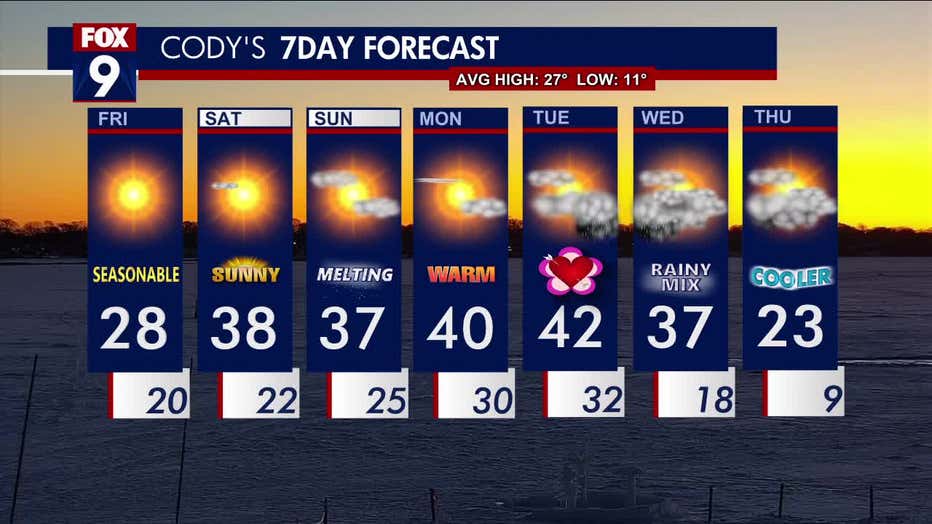 The thawing trend continues for much of the seven-day forecast.