Minnesota weather: Spring river flooding risk this year is higher than average
MINNEAPOLIS (FOX 9) - Now a week into February and we've finally seen the sun a few times and have had a reasonably quiet few days. But it certainly hasn't been a quiet season so far. 
Since we started November, the snow (and even rain in some cases) just hasn't seemed to stop. The Twin Cities managed to nearly double the average monthly totals for November, December and January, where we saw 1-2 feet of snow all three months. While the November snow melted away before the consistent cold moved in, the bulk of our snow and rain in December and January is still sitting in our current snowpack. That could lead to some big issues as it begins to melt.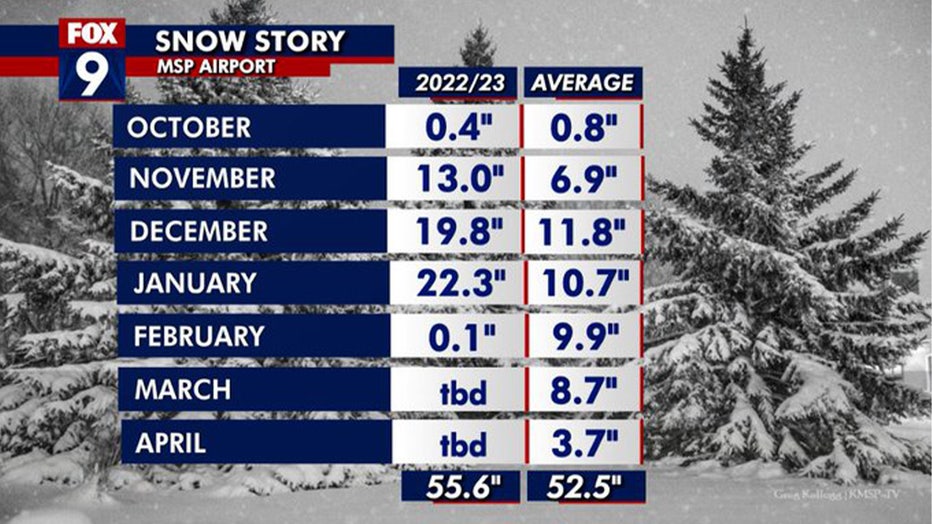 Snowfall totals at Minneapolis-St. Paul International Airport so far this year. (FOX 9)
While many of us focus on the depth of the snow piles themselves, the amount of liquid moisture that's locked away in the snowpack is more important and can vary wildly. The Twin Cities has a current snow depth of 9 inches. But 9 inches of snow cover today has VASTLY more moisture in it than our 9 inches of snow cover in late December. This is because the gravity and weight of the snow over time leads it to compact on itself. This removes the air wedged in between the snowflakes, increasing the density of the snow and ice, which can then contain more water in a smaller chunk of space. 
This is why we can have a 9 inches snow cover at the end of December, get 22 inches of snow in January, not melt any of that snow away, but still somehow have a 9 inches snow cover in early February. It's all about compaction.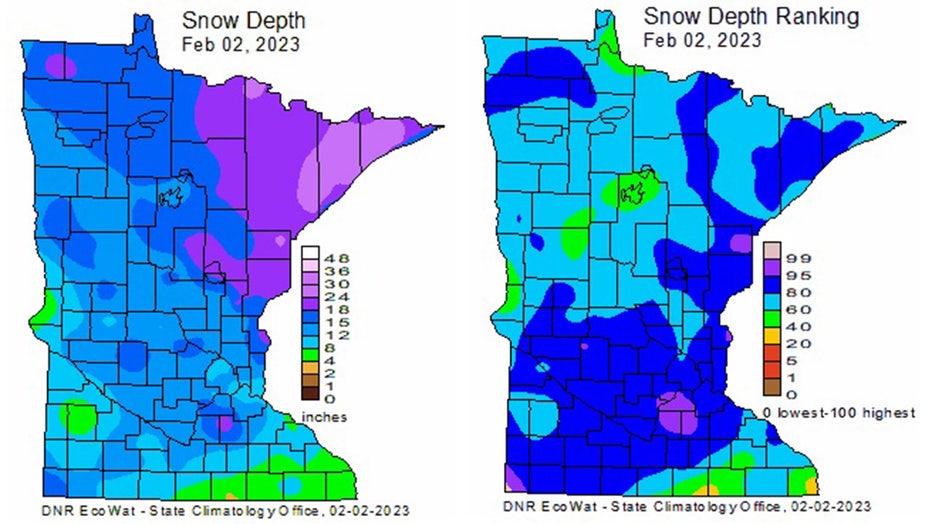 The depth of the snow in Minnesota. (Minnesota DNR)
So, below is a map that shows just how much liquid water is locked away in our snowpack. It's called snow water equivalent. That's the official term for the amount of water that will pour out of our snow depth once it melts... and the numbers statewide are pretty impressive.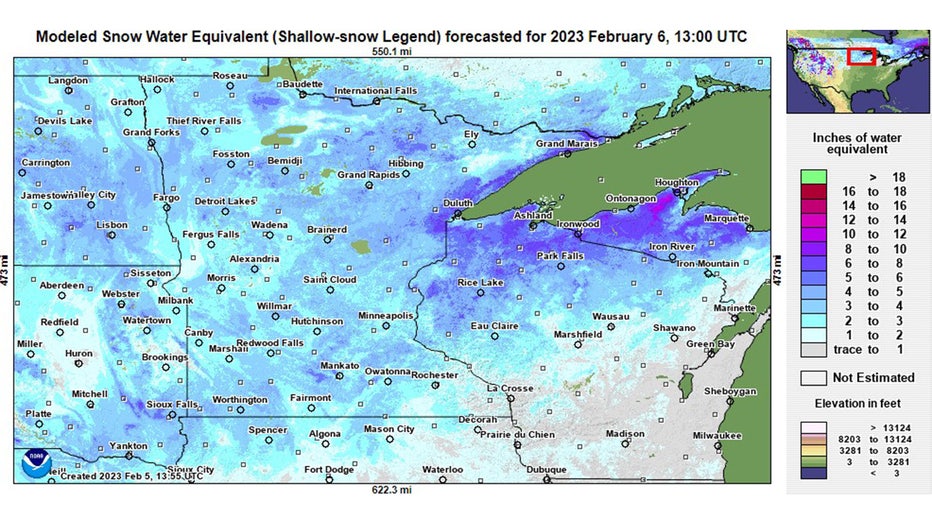 Snow water equivalent for Feb. 6.
The latest estimates show that much of the area has anywhere from 2-4 inches of liquid locked away in our snow, with areas of the northeast upwards of 6 inches in some spots closer to Lake Superior. With the ground frozen until the snow melts, the vast majority of this moisture will run off into area lakes and rivers. While many of these waterways are quite low because of the drought last year, this could still lead to some significant flooding if a lot of this snow melts at the same time. 
But there are dozens of variables that go into spring flooding that can lead to vastly different outcomes from here on out. The best-case scenario to reduce the risk of significant flooding would be a gradual melt with little additional precipitation as it does. But often times that doesn't happen with more rain or snow likely at some point in the future, so upcoming precipitation will have huge implications on just how much flooding we see through the next couple of months. 
The National Weather Service hydrologists will issue their first spring flood outlook coming up later this week.