Minnesota weather: First 60-degree day likely this weekend
MINNEAPOLIS (FOX 9) - It's about to get a whole lot warmer. 
Friday will be quiet with plenty of sunshine and temperatures approaching a far more seasonable 50 degrees in the Twin Cities by the afternoon. A few rain showers arrive late Friday evening. Northern and western Minnesota will be cooler, with highs mostly in the 30s and 40s. 
Overnight, lows will dip down to about 35 degrees in the Twin Cities, while northeastern Minnesota could see lows in the teens. 
Then this weekend will be even warmer. Saturday will be sunny with a high of around 62 degrees (this would be our first 60 of the season), while central and northern Minnesota will be in the 40s and 50s. 
Sunday will be in the low 60s with more clouds. Showers are possible in the late afternoon and evening. 
Looking ahead to next week, we could see our first 70-degree day and even our first day in the upper 70s.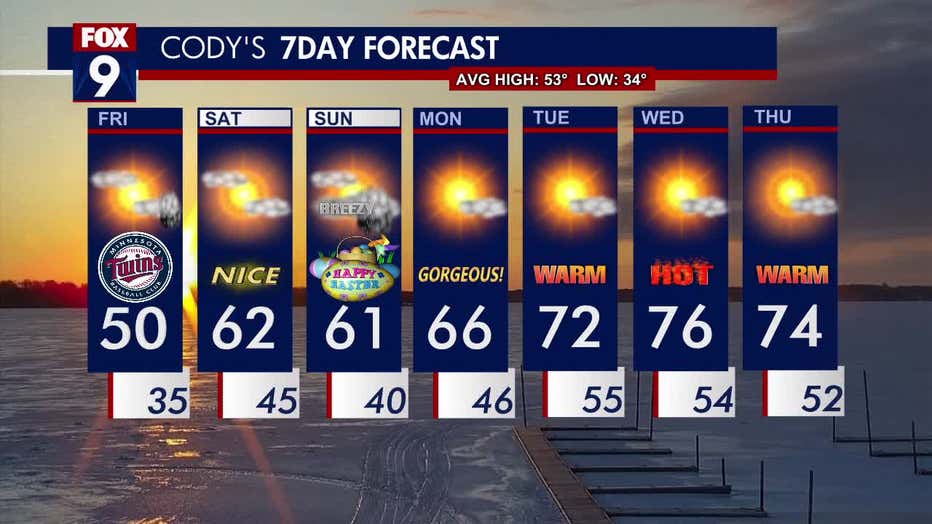 The average high this time of year is 53 degrees in the Twin Cities, while the low is 34 degrees.