A Twin Cities first: 5 consecutive months of heavy snow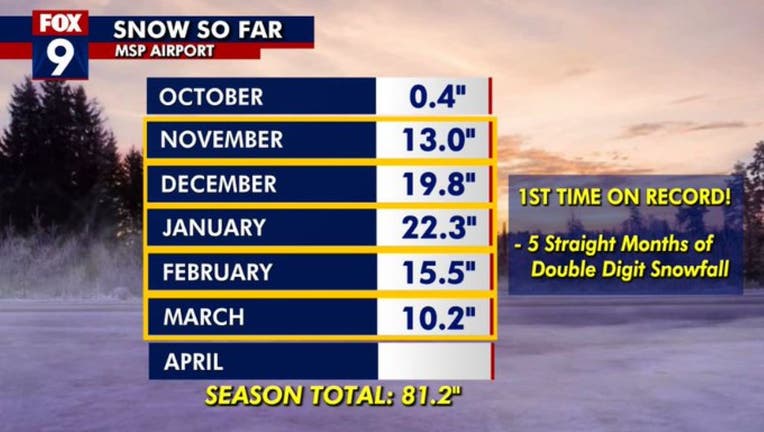 article
MINNEAPOLIS (FOX 9) - Another month and another milestone reached here in the Twin Cities. With an additional half-inch or so of snow early on in the weekend, the metro has now topped 10 inches of snow accumulation this month. This marks the fifth consecutive month that snow totals have been in the double digits (10 inches or more) and that is the first time in history, dating back to 1884, this has occurred.
It is remarkable just how consistent and persistent our snow has been this year. Not only is it super common to get more than 10 inches of snow in our winter months of December through February, it's also expected. But our "fringe" months of November and March are often more hit or miss... and it is extremely rare for both months to get double-digit totals in the same season. This also shows that our other big-time snow seasons, where we topped 80 inches, were mostly because of an extremely snowy section of our season where we had one or two "mega" months and much lighter snow in the other months.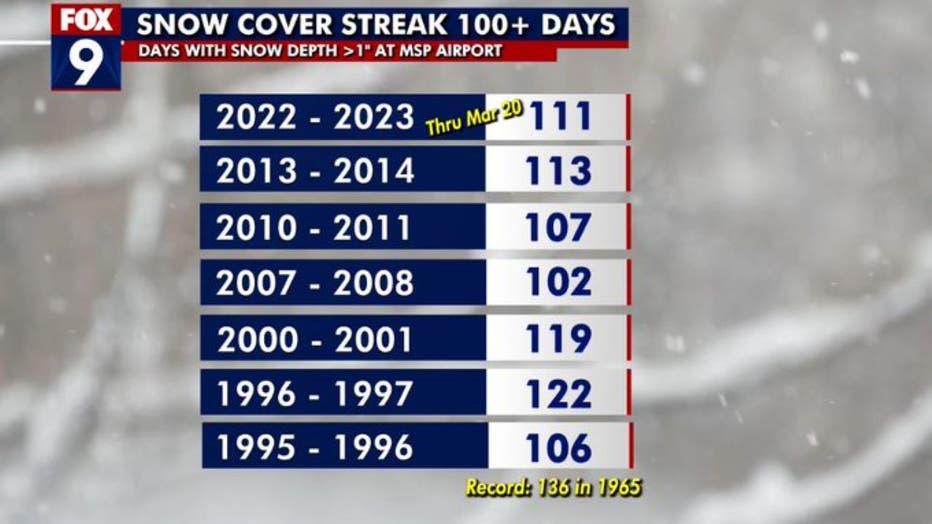 The Twin Cities has had at least 1 inch of snow on the ground for 111 consecutive days. 
Because of our persistent snow, we have had an equally persistent snow cover. The Twin Cities has had at least 1 inch of snow on the ground for 111 consecutive days. That is the 13th-longest streak on record and is the longest stretch in nine years. We should have no problem eclipsing 2013-2014 before the end of the week, making it the longest stretch since 2001. The snowpack, though, will be slowly dwindling in the days ahead as temps are likely to get above freezing for a while each and every day.
So will we get a sixth consecutive month with double-digit snow totals? Well, considering we have only done it nine times since 1884, the odds aren't exactly in our favor. However, two of those nine occasions have occurred in the last decade. And with the longer range looking around or below average heading into April, it's not out of the realm of possibility, but it's a long shot at best.