Overnight storm damage in Minnesota: Fires, toppled trees, power outages
(FOX 9) - Storms that pushed through the Twin Cities metro around midnight knocked power out for thousands of customers in the metro as wind gust exceeded 60 miles per hour in some areas.
As of 6:45 a.m. Wednesday, Xcel Energy reported more than 37,000 customers had no power, in Hennepin County about 20,000 customers remain in the dark. That's down from the height of the storm overnight, when more than 60,000 Xcel Energy customers were without power.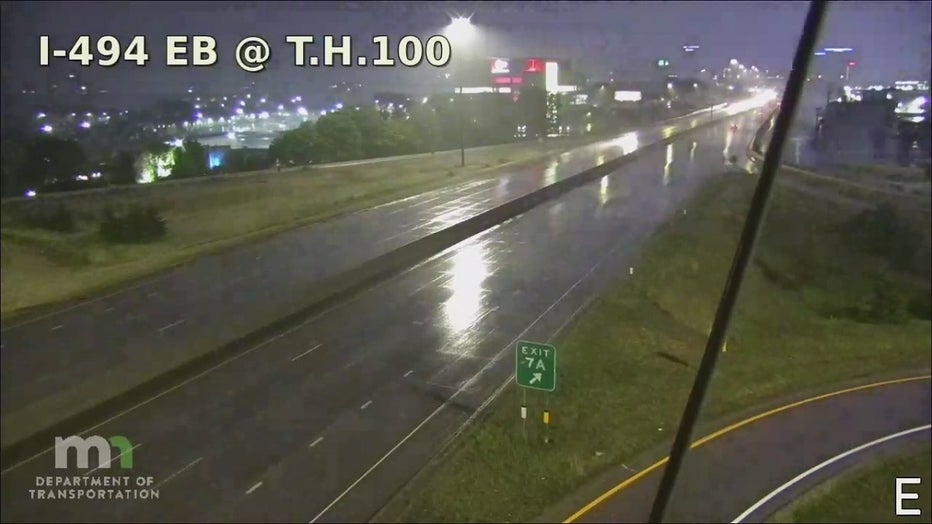 Heavy rain falls and lightning flashes on 494 at Hwy 100 shortly after midnight.
Winds knock down power lines
Severe storm warnings were in effect for the Twin Cities through most of the midnight hour as the severe weather brought strong winds and heavy rain. Power lines were downed throughout the metro including this one in Bloomington captured on video by the Bloomington Fire Department. 
A tree also fell on the roof of a home in Brooklyn Center, according to police. 
Downed trees cause damage in Hutchinson
In the middle of a day of clean-up in Hutchinson, the tornado sirens could be heard throughout town. This was the monthly test siren, but eerily familiar since residents had just heard it sound late Tuesday night, as well.  And that time, it was for real. But the storm came in so fast, it had gone off barely before Hutchinson got hit.
"It was barely windy and then just came in really fast," recalled David Demenge, as he worked to carve up the large tree that landed in his front yard.
Demenge was driving home when the thunderstorm slammed through, through wind and rain and pea-sized hail.  He had to drive on a sidewalk to get around a tree blocking the road a few blocks away.
"And then it barely rained a little bit, then all of a sudden it was down pouring, and then it was done again, so it was crazy! It was more wind than anything."
Next door, his neighbor has several limbs sticking through the roof and into her attic. Deirdre Vos recounted the same experience: watching the lightning of the coming storm and then almost instantly it was hitting.
"Very quick!  We just got the alert on our phones that there was a thunderstorm warning in the area," Vos said. "Next thing I knew, I heard… it sounded like a huge semi-truck was coming down the road and it was kind of vibrating. And the house shook."
The National Weather Service reported wind gusts of 66 mph in Hutchinson. The damage in town was scattered but intense. Some blocks appeared untouched, while others looked like a focused area of destruction.
Hutchinson had already been hit a couple of times this spring and summer with damaging storms. One resident, speaking beside a crushed car in his driveway, said he lost three other trees to a storm in July.
The city issued a Storm Damage Declaration, which means the city helps haul away the debris since it's fairly widespread. This was from a thunderstorm that took people by surprise by its speed and intense winds.
"I was just thinking lightning and thunder," said Vos. "And it, like I said, it shook the whole house when it came in."
Damage reports from the National Weather Service show trees and branches down in several areas including Hutchinson and Norwood Young America.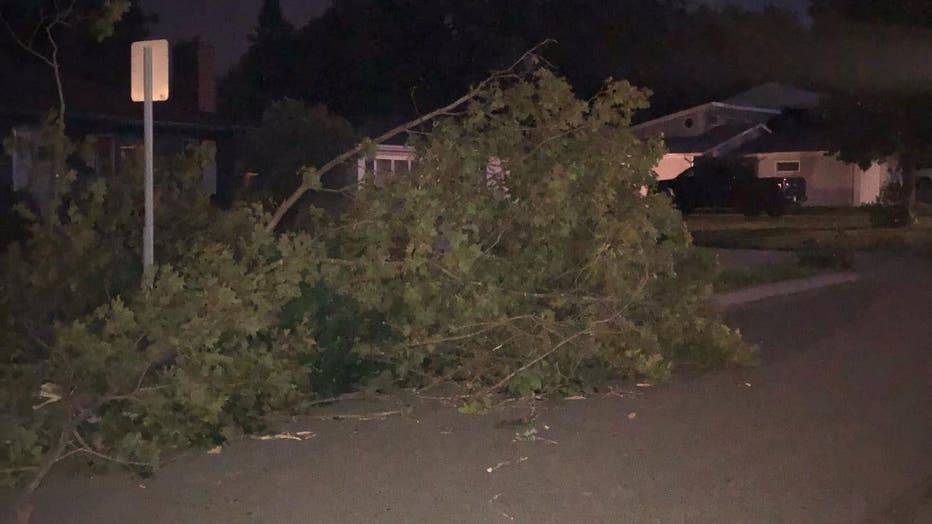 Storm damage in Hutchinson, Minnesota, from overnight storms on Aug. 3.  (Trevor Evans / Supplied)
Lightning sparks house fire in Grant
Frequent lightning also accompanied the storm, and is blamed for sparking a house fire in Grant, Minnesota. 
Strong wind gusts
The overnight storms came with strong wind gusts, with some cities recording gusts greater than 60 miles per hour.
Bloomington: 67 mph wind gust
Minneapolis: 62 mph wind gust
Richfield: 62 mph wind gust
Eden Prairie: 55 mph wind gust