Vikings: Questions remain on Cousins, Cook, Za'Darius Smith after NFL Draft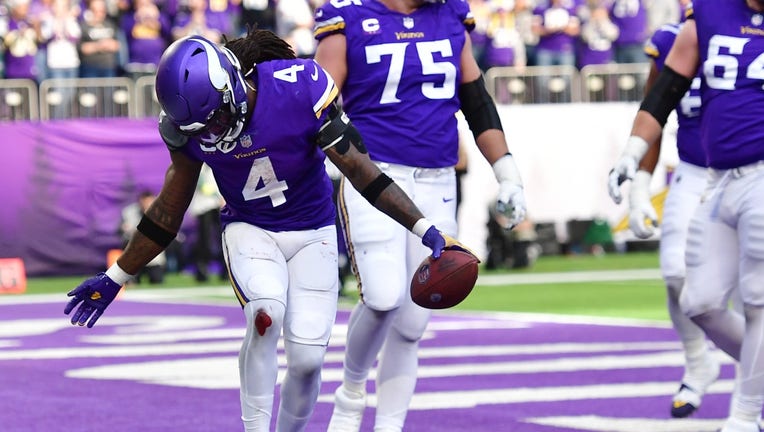 article
MINNEAPOLIS (FOX 9) - The NFL Draft is over, and the Minnesota Vikings have added six rookies to the roster for the 2023 season.
The draft started for the Vikings with taking USC wide receiver Jordan Addison No. 23 overall. They also added USC defensive back Mekhi Blackmon, LSU safety Jay Ward, LSU defensive tackle Jaquelin Roy, BYU quarterback Jaren Hall and UAB running back DeWayne McBride.
The Vikings addressed a few needs in the draft, and we'll get our first look at the picks at rookie mini camp this week. But there are still at least three big questions facing Minnesota heading into the 2023 season. Here's a look:
IS 2023 THE LAST SEASON FOR KIRK COUSINS WITH THE VIKINGS?
The Vikings have a decision to make after the 2023 season with Kirk Cousins. He'll make $20 million against the salary cap in 2023, and the Vikings did not trade up in the first round of the draft to take his possible successor. Cousins and the Vikings were unable to agree on an extension this offseason, and they still could work things out next year. 
But he'll turn 35 in August, and the Vikings could opt to go younger for their next quarterback. If they don't seek a trade for Cousins, they could try to get USC's Caleb Williams or North Carolina's Drake May in the 2024 draft. We'll likely have to wait and see how this season goes for Cousins before a decision on his future is made.
WHAT WILL THE VIKINGS DO WITH DALVIN COOK?
The popular thought was that Dalvin Cook wouldn't be on the Vikings' roster by the end of the NFL Draft. But seven rounds went, and Cook was not traded. He played in 17 games for the first time in his career in 2022, rushing for 1,173 yards and eight touchdowns.
Cook, who has been to four straight Pro Bowls, is also due to make $14 million this season in a league that doesn't value to running back like it once did. Cook is unlikely to take a pay cut, and the Vikings brought back Alexander Mattison in free agency. The question now is if he'll still be on the team when mandatory offseason workouts come next month.
The issue with trading Cook is the Vikings need to find a partner that will give in return what they feel is the appropriate value for the running back. That's easier said than done.
WHAT WILL THE VIKINGS DO WITH ZA'DARIUS SMITH?
Perhaps even more interesting is Za'Darius Smith's situation with the Vikings. He's due to make nearly $15.5 million in 2023, and reportedly asked for his release from the Vikings to test free agency. That request to this point has not been granted. Smith put his Twin Cities home up for sale, and put out a post on social media this offseason thanking Vikings' fans in what felt like a goodbye.
He's 31 years old, and had 10 sacks in 2022. But after 8.5 sacks in the first seven games, he was slowed by a knee injury and had just 1.5 sacks over his final 10 games.
Smith and Danielle Hunter were expected to be a top edge rushing duo in the NFL. Now we're left to wonder if Smith's days with the Vikings are numbered.