Vikings head to bye week 1-5 after 40-23 loss to Falcons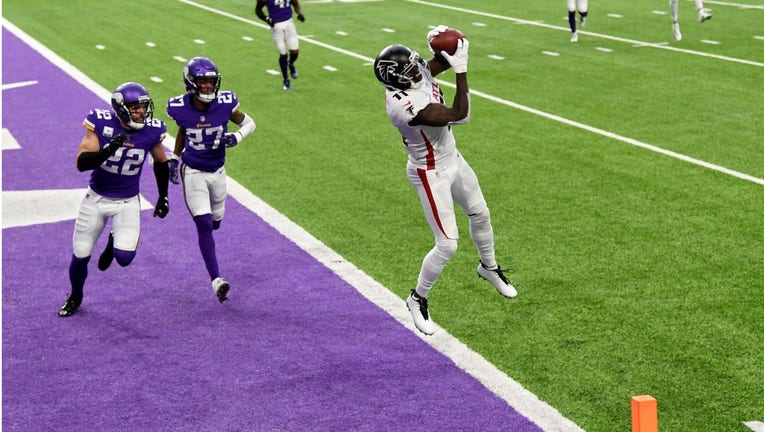 MINNEAPOLIS - The Minnesota Vikings are 1-5 heading into their Week 7 bye after one of their worst halves of the season was too much to overcome in a 40-23 loss to the previously winless Atlanta Falcons on Sunday at U.S. Bank Stadium.
The Falcons came to Minneapolis after firing coach Dan Quinn and General Manager Thomas Dimitroff, and weathering a COVID-19 scare midway through the week. The Vikings were without Dalvin Cook, Dru Samia, Holton Hill, Kris Boyd and K.J. Osborn due to injuries.
Yet it was quarterback Kirk Cousins putting the blame on himself after the loss. Cousins threw three first-half interceptions, including his first on Minnesota's first offensive play, which Atlanta turned into 17 points on the way to a 20-0 halftime lead.
Mike Zimmer said after the loss he never thought about benching Cousins for the second half.
"The reality is if the pace that I'm on in terms of the interceptions, if that were to continue, I won't finish the season. You've got to improve, whether it's them telling me 'Hey, we've got to improve' or them pulling me, you've got to get better," Cousins said after the loss. "That'll be what the rest of the season will be about for me."
Enter the NFL Challenge contest on the FOX Super 6 app for free and you can win the $1M jackpot! Download now!
Zimmer was at a loss for words after Sunday's game, especially after they played so well at Seattle last Sunday and came within a half yard of knocking off the undefeated Seahawks.
"It's hard for me to figure out how we can continue to get better and play like we did a week ago, and then play as poorly as we did this week. We didn't do very many things right, and we've got to get it fixed," Zimmer said. "It's just strange."
Cousins' first interception came on the first offensive play of the game. He tried to force a throw to Justin Jefferson, and Deion Jones picked it off easily. Five plays later on a 3rd and 11, Matt Ryan hit Julio Jones for a 20-yard touchdown over Cameron Dantzler and Harrison Smith.
Down 10-0, the Vikings thought they had a spark after Jeff Gladney forced a Brian Hill fumble that Eric Wilson recovered. The Vikings got the ball down to the 2-yard line. Alexander Mattison got stuffed twice, Irv Smith Jr. dropped a pass and on 4th and goal from the 1, Mike Boone was stopped short. They got the turnover, then didn't get points out of it.
"That's a huge for a momentum shift, especially against a team like that. You've got to punch those in and score points, and we know that," wide receiver Adam Thielen said.
After Cousins' second interception of the first half, on another target to Jefferson, Ryan hit Calvin Ridley for an 8-yard touchdown to give the Falcons a 17-0 lead. On the next drive, Cousins was hit as he threw and picked off for the third time. The Falcons got a field goal out of it, and led 20-0 at half. Cousins now leads the NFL with 10 interceptions.
The Vikings managed just 126 total yards, six first downs and had the ball for 9:31 in the first half. Cousins had 102 yards passing, the three turnovers and a 40.5 rating.
"You can't win football games when you play like that as an offense," Thielen said.
Down 23-0 in the third quarter, the Vikings tried to get their offense going as Cousins hit Jefferson for a 6-yard touchdown to get Minnesota within 23-7. With Atlanta facing a 4th and 3 on the ensuing possession, Ryan hit Jones for a 40-yard score, his second of the day, after Jeff Gladney fell down in coverage. The Falcons led 30-7.
Cousins hit Thielen for a short touchdown, and a two-point conversion from Irv Smith Jr. got the Vikings within 33-15. That's when the Falcons delivered the final dagger, as Ryan hit Hayden Hurst for a 35-yard touchdown and 40-15 lead in the fourth quarter.
Ryan threw for 371 yards, four touchdowns, no turnovers and finished with a 136.6 rating. The Falcons collected 462 total yards, and it's the second time this season the Vikings have given up at least 40 points.
"It's frustrating. We want to keep taking steps forward. We know we have the talent and the ability, we've just got to keep plugging away so we can start to turn those opportunities into wins and really be able to show the level of play that we can do," safety Anthony Harris said.
About the only bright spots for the Vikings on the day were Dantzler and Jefferson. Dantzler finished with 11 tackles, including nine solo tackles and two tackles for a loss. Jefferson finished with nine catches for 166 yards and two scores.
The reality for the Vikings is they enter their bye week 1-5, they don't have answers on how they can fix it and it's time to look themselves in the mirror.
"The last thing you want to do is go into an off week with a loss. Everybody on this team, in this organization has to self-evaluate and figure out a way to come back better," Thielen said. "If we can all do that, we know we have the confidence in this team to be the team we want to be."
Zimmer hinted that it might be time for big changes, but he wouldn't offer specifics.
"I think that's something we need to look at here, starting tomorrow. Get back in, figure out where we're at, where we're planning on going and kind of go from there," Zimmer said.