Vikings restructure Kirk Cousins' 2023 contract to create salary cap space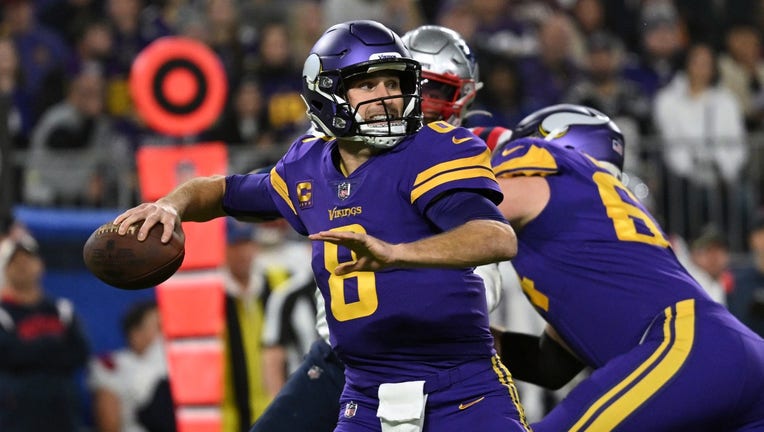 article
MINNEAPOLIS (FOX 9) - The Minnesota Vikings need to get under the NFL's salary cap by the time the new league year opens on Wednesday, and they've made a move to get there.
According to multiple reports, the Vikings are doing a cap conversion on Kirk Cousins' contract that will create about $16 million in relief. Cousins was due to cost the Vikings $36.25 million against the cap in 2023. With the move, that number goes down to a little more than $20.25 million after pushing dead cap money into 2026 and 2027, which are added void years in his contract.
The Vikings are converting a $20 million roster bonus, which is due Friday, into a signing bonus.
So what does it mean? The Vikings and Cousins reportedly haven't been able to work out a long-term extension for the quarterback, which would also provide salary cap relief, so they could be inclined to let the 34-year-old play through the final year of his contract and look to get their next franchise quarterback elsewhere. They could also still sign Cousins to an extension after the 2023 season.
Vikings' owner Mark Wilf had some telling comments on Cousins Monday morning on NFL Network.
"We're looking for great things in '23 and Kirk is going to be our leader on the offense," Wilf said.
Wilf did not say anything about what's to come after the 2023 season.
Cousins came to Minnesota in 2018 on a three-year, $84 million fully-guaranteed deal. He's returned on one-year extensions the last two seasons, and threw for more than 4,500 yards, 29 touchdowns and 14 interceptions in 2022 despite being sacked a career-high 46 times.
He led the Vikings to a division title in Kevin O'Connell's first season as a head coach, with the help of eight fourth quarter comebacks. But signs are now pointing to next season potentially being Cousins' last in Minnesota.
Vikings General Manager Kwesi Adofo-Mensah talked about Cousins' future last month at the NFL Combine.
"Obviously, from their side, they want it as certain as possible, and from our side, we want flexibility," Adofo-Mensah said.
GARRETT BRADBURY, NICK MULLENS RETURNING TO VIKINGS
Garrett Bradbury was set to enter free agency on Wednesday, but the Vikings have reached an agreement to keep the 2019 first round pick in Minnesota.
The Vikings declined a fifth-year option on Bradbury before the 2022 season, and he did enough to convince them to bring him back. Bradbury started 12 games last season, missing time with a back injury. He's made 57 starts at center in four seasons, and expressed his interest after the season in returning to Minnesota.
The Vikings took Bradbury No. 18 overall in the 2019 NFL Draft. Bradbury's return means the 2022 starting offensive line including Christian Darrisaw, Ezra Cleveland, Ed Ingram and Brian O'Neill will remain intact.
The Vikings also announced Tuesday they're bringing back Nick Mullens to be the back-up quarterback to Cousins. Mullens played in four games for the Vikings last seasons, going 21-of-24 for 224 yards, one touchdown and one interception.