Twins: Kyle Farmer, Byron Buxton injured in 3-1 win over White Sox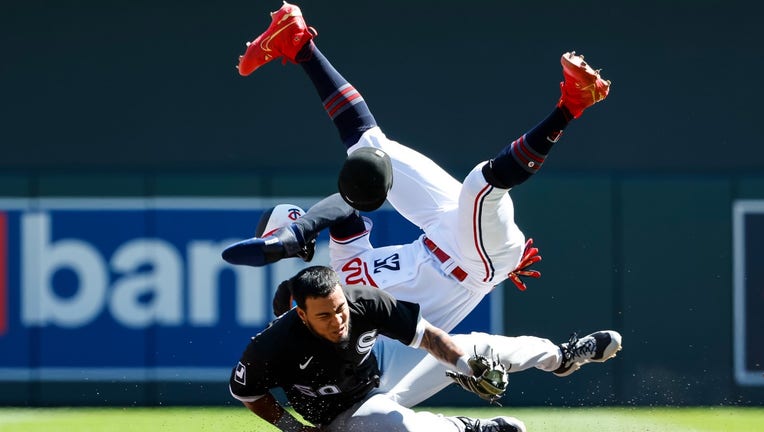 article
MINNEAPOLIS (FOX 9) - The Minnesota Twins beat the Chicago White Sox 3-1 on Wednesday at Target Field to finish their first home stand of the 2023 season 4-2, but it came at a price.
Kyle Farmer was drilled in the face by a Lucas Giolito 92-mile per hour fastball during the bottom of the fourth, and immediately went down in a heap. Giolito's immediate reaction was one of remorse, as it's one of the scariest plays in baseball.
After being down on the field for several minutes, Farmer was able to get up and was helped off the field by two trainers, with a towel covering his face. Last Friday, Farmer had the game-winning hit as the Twins beat the Astros 3-2 in 10 innings.
It's the latest in a series on injuries for the Twins, and it's probably safe to say Farmer won't be back any time soon. Twins officials announced during the game Farmer exited with a jaw injury, and had no update on a timeline. A clearly emotional Rocco Baldelli said after the win it appears Farmer avoided any fractures, but will have a procedure to realign his teeth and fix a major laceration on his lower jaw.
"Thank God we got the news that was better than what we were expecting.  It doesn't appear that there's actually a fracture or fractures, which is probably some sort of miracle that that's the case. One of the more difficult days that you're going to have at a ballpark," Baldelli said. "I barely had the ability to do my job and they're going out there playing. It's not normal to just play a game like that after witnessing something like that happen to your guy."
The Twins are already without Jorge Polanco, Max Kepler, Joey Gallo, Alex Kirilloff and Carlos Correa, and are now without Farmer. Polanco is working his way back to the Twins, while Kepler, Gallo and Kirilloff are on the injured list. Correa also hopes to return soon.
If that's not enough, outfielder and designated hitter Byron Buxton went down in heap during the bottom of the seventh, after colliding with infielder Lenyn Sosa while trying to get to second base. Buxton was down for several minutes, but was able to walk off the field under his own power. Buxton was the designated hitter on Wednesday, but with his spot on deck at one point in the eighth inning, Christian Vazques was ready to hit for him.
"Buck was coming out of the game after that collision. We don't have any sort of diagnosis, he got whacked in about three different spots. We're going to see how he wakes up tomorrow," Baldelli said.
The Twins' first run of the game came in the fourth, shortly after Farmer's injury. With the bases loaded, Michael A. Taylor hit a grounder to first that allowed Ryan Jeffers to score. They got two insurance runs in the eighth, as Jeffers scored on Willi Castro's double to right center. Castro entered the game in place of Farmer. Taylor singled to score Castro.
The Twins won the series finale with the help of five shutout innings from Sonny Gray. He allowed just three hits while striking out five, coming off a career-high 13 strikeouts in the Twins' home opener last Friday.
The Twins (7-4) head to New York for a four-game series at Yankee Stadium, starting Thursday night.