Timberwolves Karl-Anthony Towns after playoff exit: 'I just want to win'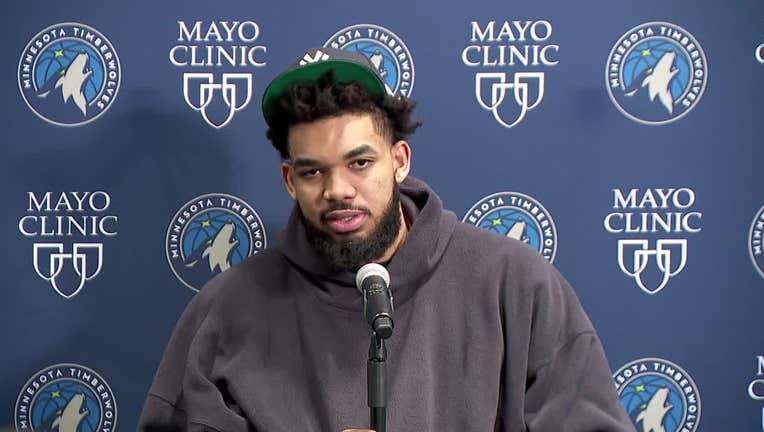 article
MINNEAPOLIS (FOX 9) - The Minnesota Timberwolves started the 2022-23 season with aspirations of a run into the Western Conference Playoffs.
Tim Connelly made the splash move before the season, sending four players and four future first round picks to the Utah Jazz for star center Rudy Gobert. Karl-Anthony Towns and Gobert would pair as twin towers in what's become a guard-dominated NBA, and they would be unstoppable inside.
That never happened. Towns missed 53 games with a right calf strain, but returned in time for the playoffs. Injuries to Naz Reid and Jaden McDaniels, and at least one feud within the team were too much to overcome after a first round playoff loss to the Denver Nuggets in five games.
"It felt like multiple seasons in one with all the things we were dealing with at any given time. Losing KAT for 50-something games and still finishing with a winning record and making the playoffs, I think while we had greater expectations, I think when you readjust for missing KAT for that many games, we also have to realize the team put another successful season together," Timberwolves coach Chris Finch said during the team's exit meetings late last week. "Back-to-back playoff appearances for a franchise that hasn't sniffed the playoffs in 20 years is something to be proud of."
He's not wrong. The Timberwolves haven't been to the playoffs in consecutive years since 2003-04. That's also the last time they had consecutive 40-win seasons.
Finch also pointed to a young team that needs to mature. Kyle Anderson threw a punch at Gobert late in the season. That same game, McDaniels broke his hand punching a curtain with a concrete wall behind it.
Too many times, the Timberwolves gave away fourth quarter leads and lost to inferior opponents. And they were without Towns for 53 games. But mostly, it's a team that needs to mature on the court.
"A lot of it comes from a good place, competitive. I don't think they're malicious or petulant or necessarily trying to act out to be acting out. They want to win, they want to be competitive," Finch said. "We have a lot of guys who haven't necessarily won a lot in their career as young players, so handling our failures as they come and when the stakes are a little higher exposes some flash points for us. They're all growth opportunities for sure, it's something we've got to get a handle on."
KARL-ANTHONY TOWNS: 'I JUST WANT TO WIN'
It wasn't the end the Timberwolves wanted, but they didn't go down without a fight against the Nuggets. They forced a Game 5 with an overtime win at Target Center, then the season came down to an Anthony Edwards' missed 3-pointer. 
Towns watched much of the season after suffering a calf injury in late November, unable to help his teammates for over half the year.
"Tough season, a lot of adversity, a lot of injuries. Just continued to fight though, happy about the fight we had all year. Just showed that we had a lot of professionals in that locker room who were ready for the moment," Towns said late last week.
What he did make clear last week, is he wants to make it work with Gobert.
"I think it can work because we have the talent. I know the work I've put in and I know I've shown I'm willing to sacrifice whatever it takes to make everything work and to win," Towns said. "Knowing the talent I possess and who I am as a player and person, I can make it work."
He also wants to win, and wants to do it in Minnesota. That's despite loud fans on social media all but begging for the Timberwolves to trade Towns this offseason.
"Since I came here I wanted to win, I want to bring this organization back to winning. I want to just be a winner," Towns said. All that other stuff, I leave that up to y'all to speculate and write about. I'm here to win."