Timberwolves guard Anthony Edwards named NBA All-Star as injury replacement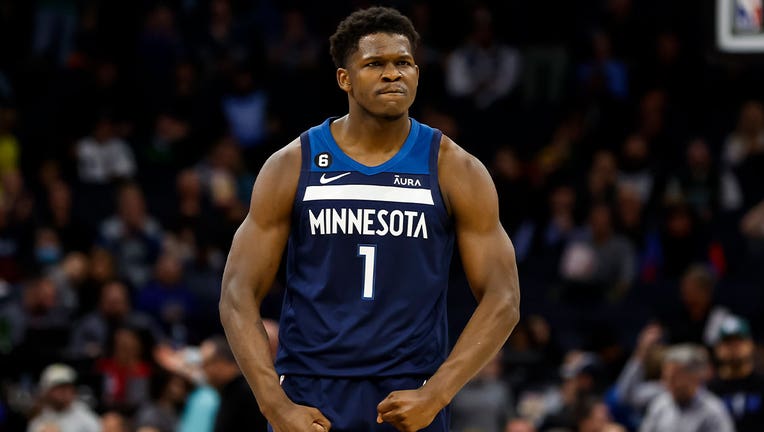 article
MINNEAPOLIS (FOX 9) - Anthony Edwards is an All-Star after all.
The Minnesota Timberwolves announced Friday that Edwards has been named to the NBA All-Star Game as an injury replacement, with Stephen Curry, Kevin Durant and Zion Williamson unable to play in the game. De'Aaron Fox and Pascal Siakam are joining Edwards as injury replacements.
Edwards is the eighth player in franchise history to be named an All-Star, and the Timberwolves have a representative for the second straight year after Karl-Anthony Towns went last year. It'll be the first career All-Star Game for Edwards.
Just last week, Edwards reacted at Timberwolves' shoot-around after not being selected a Western Conference reserve.
"I knew I wasn't going. I was more surprised De'Aaron Fox didn't get in. I mean I'm just never the one that's selected for things like that, I feel like. I've got to go above and beyond. I will next year, so I ain't trippin," Edwards said. "I didn't think nothing about it. I'm just happy for the guys that got in," Edwards said. "I don't really care, it don't really bother me."
Edwards played in the Rising Stars Challenege last year as part of All-Star Weekend.
Edwards has started every game for the Timberwolves this season, and leads the team with 24.7 points and 1.7 steals per game. The No. 1 overall pick in the 2020 NBA Draft, Edwards leads all third-year players in scoring. He has 16 games with at least 30 points.
The Timberwolves are eighth in the Western Conference at 30-28, and are in Memphis to face the Grizzlies Friday night with two new players in Mike Conley Jr. and Nickeil Alexander-Walker, both acquired from the Utah Jazz in a trade on Thursday. The Timberwolves sent D'Angelo Russell to the L.A. Lakers.
The NBA All-Star Game is Sunday, Feb. 19 in Utah.