'The Korean Mbappe': Korean soccer star on Minnesota United keeps winning mentality in MLS
ST. PAUL, Minn. (FOX 9) - Sang Bin Jeong, the sixth-ever Korean to play in Major League Soccer, comes to the Minnesota United with years of professional soccer experience. 
Jeong, 21, started his career playing for Suwon, then going abroad to Wolverhampton in the United Kingdom and then to Switzerland, where he played for the Grasshoppers Club team.
Jeong was destined to play soccer. At a young age, he loved to run around outside and even play soccer inside the house. Everything was always about soccer. And the passion for the sport runs deep in the Jeong family.
"Ever since my dad was really little, he played a lot of soccer and worked harder than others. He played up until high school and during that time… my dad was in a situation where he could have used a little money and our family was in a difficult environment, so my dad couldn't pursue a professional soccer career," Jeong said.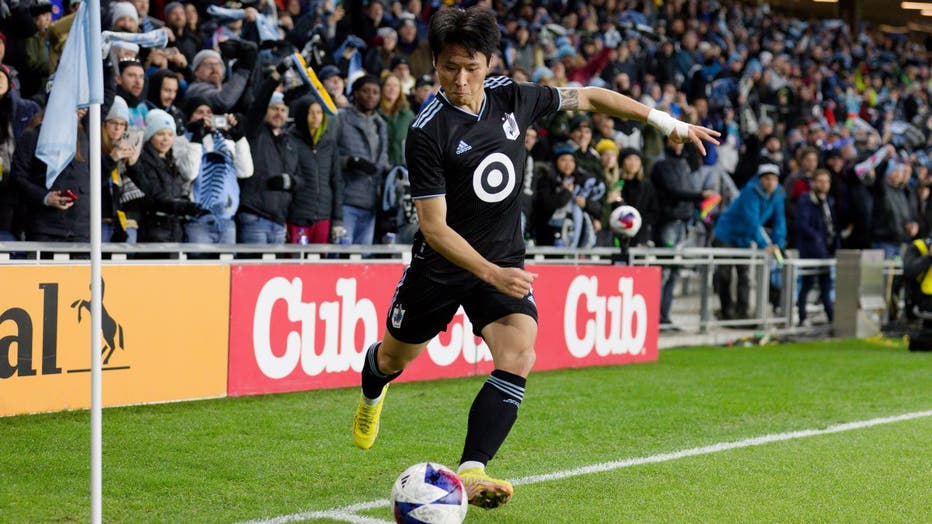 Sang Bin Jeong #11 of Minnesota United FC takes a corner kick during a game between FC Dallas and Minnesota United FC at Allianz Field on April 30, 2023 in St. Paul, Minnesota. (Photo by Jeremy Olson/ISI Photos/Getty Images)
But once Jeong's dad came back home from the military he stepped into a mentorship role, coaching an elementary school soccer team. By the time Jeong was born, he was still coaching, naturally paving the way for Jeong to throw on his cleats.
When he got the opportunity, Jeong knew right away that he wanted to make the move to Minnesota but it took some time before his parents came full circle.
"For me, when I heard about the transfer offer to Minnesota, I was really excited. While I was happy about it, I think my parents were more concerned because I spent just about a year abroad and they didn't think the transition to a new team right away would be an easy adjustment. But when I told them how good this opportunity was and what the manager and the club thought, I think they started taking it really well," Jeong said.
He told me his decision to play for Minnesota United was exactly what he needed to continue growing. 
"Of course I miss my everyday life but I'm a professional soccer player. My biggest goal right now is to keep getting better at soccer, so I think I'll be happiest if I can just do well and work hard here," Jeong said.
Another goal for Jeong is brushing up on his English. Right now, he and his teammates stick to simple vocab to communicate. When it comes to soccer lingo, Jeong says those words are common knowledge for him, so they're easier to understand. 
He does plan to take some English classes in the near future but for now, Jeong says he wants to focus on scoring more goals.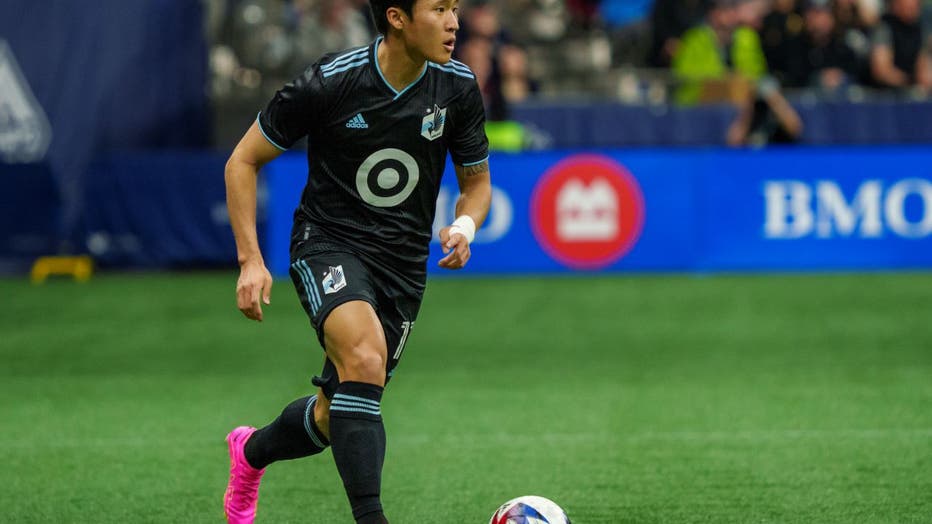 Jeong Sang-bin #11 of Minnesota United FC dribbles the ball against Vancouver Whitecaps FC in the first half at BC Place on May 6, 2023 in Vancouver, Canada. (Photo by Christopher Morris - Corbis/Getty Images)
"For the amount of trust the club and the coach had in me, I feel like I scored a goal a lot later than expected," Jeong said.
And leading his team to victory.
"After winning at home, even though I only heard it for the first time yesterday, I wanted to keep listening to the song so I'll keep doing my very best to make good plays and impressions during home games," Jeong says.