Sang Bin Jeong: What Minnesota United fans can expect, and what he needs to succeed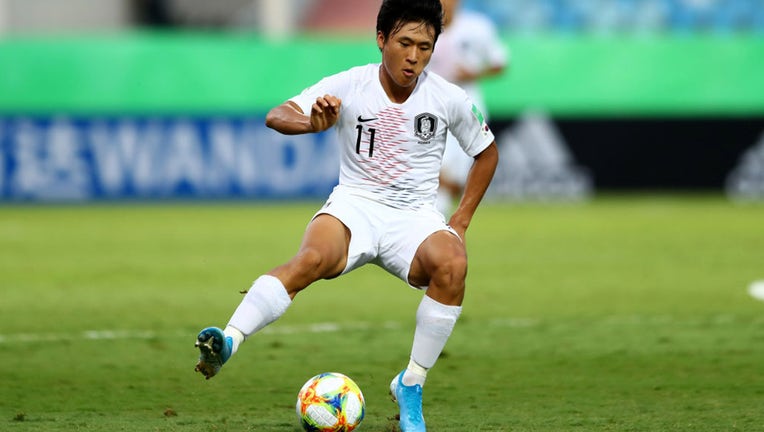 article
ST. PAUL, Minn. (FOX 9) - The 20-year-old South Korean international Sang Bin Jeong has joined Minnesota United with great expectations, and with something to prove: can he overcome his recent injury struggles to reach the potential that saw Korean Media hype him, when he was still a teenager in his first professional season, as the "Korean Mbappe" or the next "Next Son Heung-min?"
A debut to remember 
According to Sungmo Lee, a South Korean soccer analyst, Jeong was already known as a promising teenager when he made his debut for the Suwon Samsung Bluewings in 2020, but he still turned heads.
The YouTube highlight of his performance has over 778,000 views and gives a glimpse of a few of the reasons why Minnesota United Technical Director Mark Watson said the team has been tracking Jeong since 2019. He has raw "elite speed" and quickness, combined with a deft touch (he controls a difficult pass in one moment, flicks the ball to a teammate the next) and a remarkable calmness in front of goal for a teenager — he collects a pass at full speed, runs at a defender, feints one way, and then coolly slots the ball between the opposing player's legs and into the corner. 
"His debut game was at a different level. It was not just a 'good' debut, but anyone saw that game could feel this player could be a big thing in the future. It was a 'Remember that name' moment," Lee told FOX 9.
Jeong in Europe: Promising start interrupted by injuries 
That performance and others like it drew the attention of European scouts, leading Jeong to English Premier League Team Wolverhampton Wanders to sign him for a reported $1.2 million in 2022. The Wolves loaned Jeong out to their sister club, Grasshoppers Club Zürich — a common practice for developing players — but there, Jeong's career hit an unexpected bump in the form of a series of injuries. 
According to Transfermarkt.com, Jeong went from spending five days injured in 2021, to 94 in 2022, which translated to 12 missed games, with two ankle injuries being the biggest contributor. 
"He suffered injuries at the start of his time in Swiss, and it negatively affected his adaptation in the new league. Due to the injury, he got in an early stage with his new team, he couldn't play as many games as he needed as a young player," Lee explained. 
Enthusiastic presser with a team mentality 
Watson also cited Jeong's "mentality" as a reason for the club's interest in Jeong, and tellingly, the debut highlight real and others show him to be an enthusiastic "presser," sprinting to close down defenders. However, Jeong's high defensive work rate may have contributed to him being played out of position in his second season in Switzerland, in which he was regularly used as a "wingback," or a wide defender, disappointing his Korean fan base.  
"The fans are calling him 'Korean Mbappe', expecting his skills, pace being used for attacking play, never imagined he'll play as wingback in Europe," Lee said. 
Lee said that while Jeong is willing to contribute defensively, his strengths are on the other side of the pitch: speed, creativity, and power in the attacking third. Lee describes Jeong as a player who takes on defenders, and either finds a pass to a teammate or "kills the game by his own ability to score."
For Jeong to succeed in Minnesota, Lee thinks it will be important for the team (and its medical staff) to focus on keeping him injury free.
"Once he gets the confidence without any injuries, he'll be able to show his potential in MLS," Lee said.