Naz Reid on staying with Timberwolves: 'This is where I wanted to be'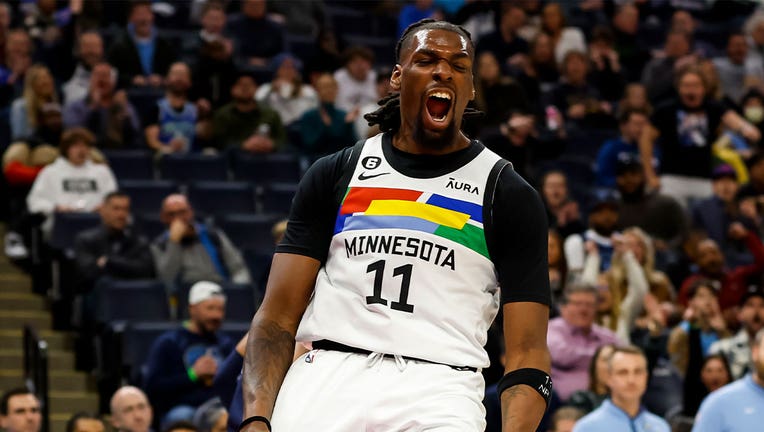 article
MINNEAPOLIS (FOX 9) - The message has been consistent since the start of the offseason for the Minnesota Timberwolves: They didn't want Naz Reid testing free agency, and he wanted to stay in Minnesota.
That combination, and Reid coming off the best season of his career, led to a big pay day for the former LSU star. The Timberwolves signed Reid last week to a three-year, $42 million deal with a player option in that final year.
Reid is just 23 years old and finished his fourth NBA season with the Timberwolves. He's been a piece of two straight playoff teams, and played in 68 games last year, including 11 starts. He averaged a career-high 11.5 points and 4.9 rebounds in more than 18 minutes per game.
Reid held a news conference along with Timberwolves front office head Tim Connelly and coach Chris Finch on Wednesday at the Southside Village Boys & Girls Club to talk about staying in Minnesota.
"We couldn't be more fortunate, the best basketball is in front of him. He's just scratching the surface of what he's going to be as a player," Connelly said. "He's become obsessed with the game, obsessed with keeping his body right so any time you surround some of your best players with guys who are as impactful culturally as Naz, you do everything you can to keep those guys."
"I appreciate y'all believing in me to bring me back, wanting to bring me back. I'm just going to go out there and do what I do best, play hard-nosed basketball, winning basketball, get better each and every time I step on the court," Reid said. "I'm dedicated to the game of basketball and winning. Whatever it takes, I'm looking forward to playing some winning basketball moving forward."
Reid could've chased more money in free agency, and been offered a starting role with other teams. What mattered to him is playing alongside Rudy Gobert, Karl-Anthony Towns, Anthony Edwards, Jaden McDaniels and others.
"Ultimately this is where I wanted to be. I started my career here, I wanted to continue my career here. I've gotten better each and every year here, so it only made sense," Reid said. "I didn't want to go anywhere else and continue my journey."
He went undrafted out of LSU but the Timberwolves liked what they saw early on from Reid enough to sign him to a multi-year deal during the NBA Summer League. He was a key piece last year with Towns out injured, and Gobert dealing with back spasms, until he suffered a wrist injury late in the regular season.
"I think it's just a classic example of what believing in yourself and hard work can do. His role changed multiple times throughout the season, but he just kept his head down, stayed confident in himself, stayed ready. From the get-go, he was really important for us last year," Finch said.
Reid knew the uncertainties of playing in the final year of his contract. But what mattered to him was staying in Minnesota, building on two straight playoff teams.
"Of course, everybody has that feeling in the last year of their contract. You don't know what's going to happen, everybody has that feeling. I definitely had that feeling, but I stuck to my roots," Reid said. "They believed in me, I believed in the program as well so we came together and got the deal done."
Rather than hold the news conference at Mayo Clinic Square or Target Center, the Timberwolves held Wednesday's event at the Southside Village Boys & Girls Club in south Minneapolis. He posed for pictures with kids, signed autographs and played "Around the World" with them. It's their hope one day to live Reid's dream.
It's the same spot he had a news conference as a rookie, with Jarrett Culver and Jaylen Nowell. He grew up going to similar clubs.
I went through this process myself, going to the Boys & Girls Club when I was younger, kind of got to give back as much as I could. Anything is possible, go out there in any form, passion of a job. It doesn't matter what it is, you can be at the highest position of your ability as long as you put yourself to it. Bring your all and everything you have.